9 Reasons To Love Living In Damonte Ranch, Reno In 2022
Posted by David Tully on Tuesday, April 11, 2023 at 1:36:51 AM
By David Tully / April 11, 2023
Comment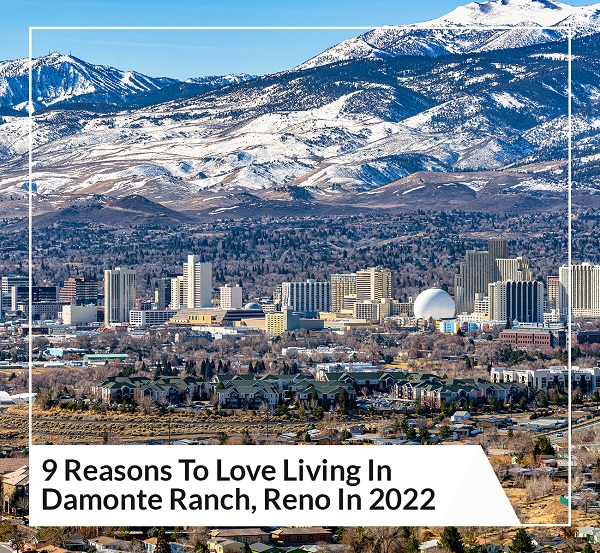 Damonte Ranch is a community in Reno, Nevada. The city of Reno has a population of over 400,000 people and this provides a great place to live if you want to be close to work or school but still have the space and quiet that comes with living in suburbia.
Damonte Ranch has everything your heart desires: parks for kids to play at, beautiful homes with yards full of flowers and trees, and restaurants that serve delicious food with friendly service. If you're looking for a place where you can come home to peace, beauty, and family-friendly fun, then Damonte Ranch might be right up your alley!
Here are nine reasons so many people love living in this charming community:
1. Sierra Nevada Mountains Nearby
The Sierra Nevada Mountains are a perfect place to go for day trips or weekend getaways. There are many hiking trails in the area and you can spend all day exploring them if you like. If you're looking for more than just hiking, several beautiful places offer some of the best skiing in America!
It's easy to get from Damonte Ranch, Reno into town by taking one of the free shuttles that run throughout winter (and most other times, too). And if you're coming from somewhere else, they provide free parking at their garage on Pacific Avenue as well as on Lurline Street behind the main building where they have plenty of space available throughout each day so come back whenever it works best for your schedule!
2. Close to Downtown Reno
Damonte Ranch is close to downtown Reno, which means you can enjoy all the fun of a vibrant city without having to worry about driving too far. Downtown is about 20 minutes away, and has a lot of great restaurants, bars, and other entertainment venues.
There are also plenty of services like banks and grocery stores nearby if you need them! You'll also find several parks in the area that offer beautiful views over the Truckee River Valley or even of Mt. Rose.
You can also use this location as an excuse to explore other parts of Northern Nevada. Virginia City has been preserved as an Old West town with quaint shops and restaurants; Lake Tahoe lies just across Highway 395 (which connects both Reno and Carson City); Red Rock Canyon National Conservation Area is just three miles beyond Fallon; Pyramid Lake lies 40 miles north of Pyramid Lake State Park; Battle Mountain Ski Resort offers various slopes for skiers (and snowboarders) during winter months when others are hibernating indoors!

3. Fun For the Whole Family
If you're looking for somewhere to hang out with friends and family, Damonte Ranch has all of the options. There are many different places where people can meet, including parks, shops, and restaurants. You'll also find a variety of activities for kids and adults alike:
Parks: Damonte Ranch has several parks where families can go spend time outdoors together
Shopping: There are lots of shops that offer great deals on everything from clothes to electronics
Eating out: Damonte Ranch has plenty of restaurants offering food from around the world!
4. Renown Medical Center
The Renown Regional Medical Center is a hospital with a helipad. The hospital is located next to Damonte Ranch, so it's easy to get there if you need medical attention.
The Renown Regional Medical Center has an emergency helipad, and it also has one for transporting patients.
Hospitals can be scary places, but the Renown Regional Medical Center is one of the best in Reno. If you're ever in need of medical attention, it's good to know that there is a place nearby that can help.
5. Excellent Education
One of the great things about living in Damonte Ranch is that it has great schools. The city has two public schools, one private and one charter school. These schools are all ranked among the best in Reno, so your children will have an excellent education to start their lives out with.
The teachers at these schools are also top-notch and dedicated to their student's success; they work hard to ensure that every child learns as much as possible during their time at school each day.
In addition to having some of the best teachers available around town, there are plenty of activities available for kids at Damonte Ranch Public Schools (DPRS) such as sports teams or clubs.
Damonte Ranch is home to the University of Nevada, Reno. The school has a large student population and a large research budget, which makes it an important hub for higher education in the area.
The U of R is also well-known for being one of the best universities in the world at producing graduates who end up getting jobs in STEM fields (science, technology, engineering & math).
There are tons of nearby places for students to explore during their free time. The university is in downtown Reno, which means there are plenty of attractions within walking distance, such as restaurants, bars, and clubs.

6. Tons of Hiking Nearby
You might be surprised to learn that Damonte Ranch has some of the best hiking trails in Reno. With so many beautiful parks and nature preserves around, you can get out and enjoy them anytime you want!
Hiking trails are a great way to stay active, get in touch with nature, and build community. Multiple hiking trails within Damonte Ranch can be easily accessed from the neighborhood:
The South Goose Creek Trail is located just outside of Damonte Ranch on the east side of town. It's an easy hike with plenty of viewpoints along the way that give you a good view of Reno's landscape as well as historic sites like Old Spanish Trail Bridge (built in 1852).
If you're looking for something longer than just one mile but don't want too much elevation gain or loss, try out The Joy Zone Trail—which takes hikers through both natural and cultivated areas—or Savanna Lake Recreation Area which offers more than 10 miles worth of terrain!
Being able to connect with nature through hiking paths allows us all kinds of opportunities for reflection about ourselves as well as others around us.
7. It's Peaceful
Damonte Ranch is a great place to live because it's peaceful. There are no traffic jams, no noise pollution, and no crowds of people in your neighborhood.
This neighborhood has everything you need for a relaxing lifestyle—a quiet environment that is friendly, and comfortable.
8. The Views are Amazing
One of the most attractive aspects of Damonte Ranch is its views. The houses are scattered throughout a lush and secluded area, so you can enjoy stunning panoramic vistas without having to get in your car and drive around town. There are also plenty of places to sit down and relax while enjoying these beautiful views:
The Lake – Imagine yourself taking a refreshing dip after climbing out of bed in the morning! Or maybe it's just too hot outside for swimming right now? Either way, there are plenty of lakeside locations around Damonte Ranch where you can soak up some sun while enjoying some peace & quiet.
Mountain Views–If you love hiking or just want to get away from it all every now & again (but still have access), then consider visiting one of the local parks that offers magnificent mountain views from their trails!
9. It is close to US 395
US Route 395 is a major highway that runs through Damonte Ranch, Reno. It's also one of the most important highways in Nevada and one of the main routes between California and Utah. US Route 395 is a major highway that runs through Damonte Ranch, Reno. It's also one of the most important highways in Nevada and one of the main routes between California and Utah.
As you can see, there are many reasons to love living in Damonte Ranch. If you're looking for a new home and want to be close to the action of Reno or Sparks, this is the place for you!
If you're looking for a place to call home, Damonte Ranch is the perfect community. And if you don't believe me, just ask anyone who lives there! They'll tell you how much they love living in Damonte Ranch, Reno and why they would never want to leave.
David Tully, located in Reno, Nevada is a detail oriented REAL ESTATE professional that can offer his clients significant experience whether they are first time homebuyer, or experienced seller/buyer relocating to Reno. This experienced real estate professional knows the industry and strives on getting the clients exactly what they are looking for.