Arrowcreek, Reno: Everything You Need To Know About This Master-Planned Community
Posted by David Tully on Tuesday, April 11, 2023 at 2:08:26 AM
By David Tully / April 11, 2023
Comment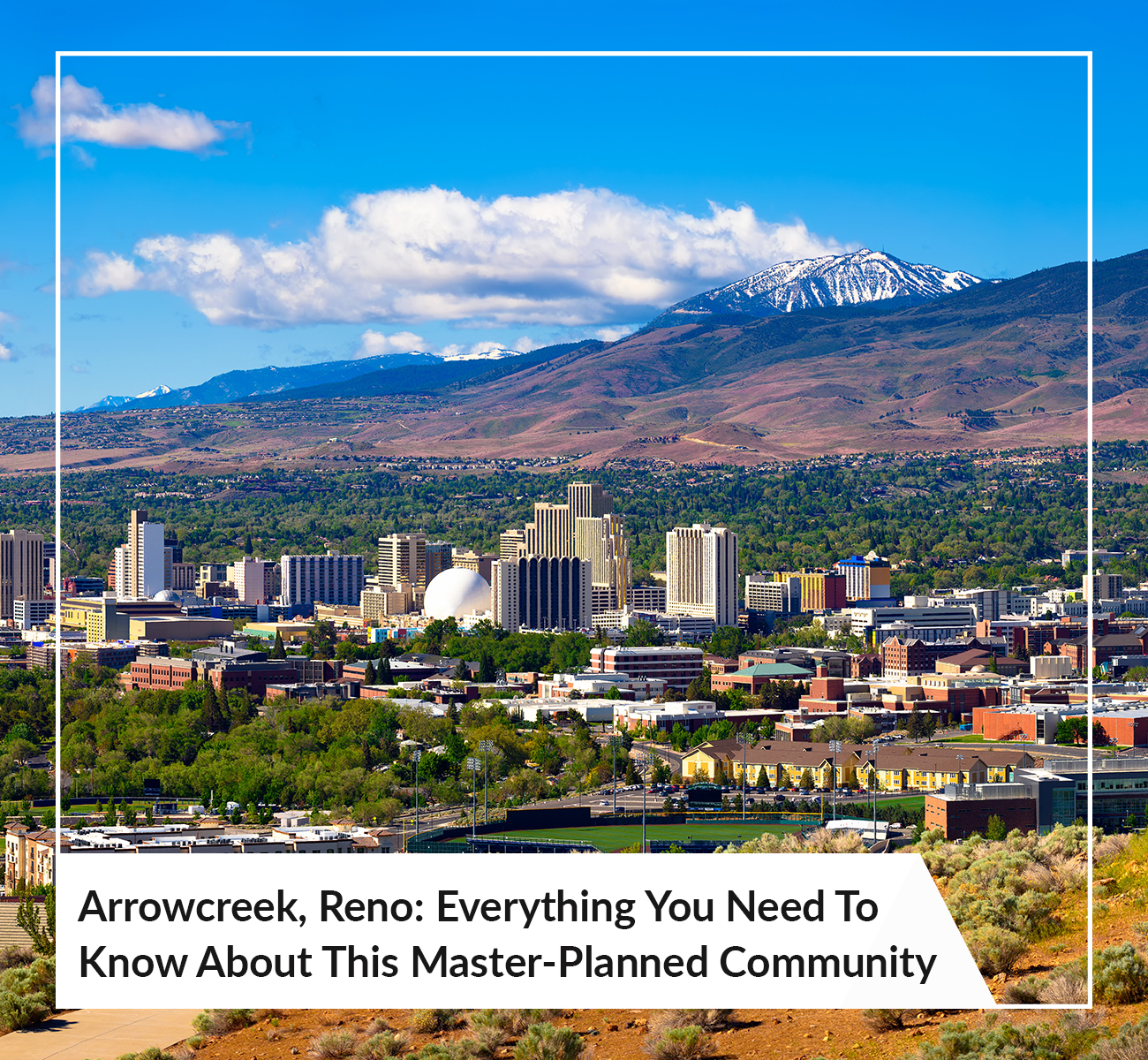 Tucked within the foothills of the Southwest Reno Mountains, Arrowcreek is a master-planned community that offers panoramic views of the city and nearby mountains. This exclusive community was designed with family living in mind, with a variety of amenities and activities to keep residents entertained year-round.
But this isn't just a place for families—Arrowcreek is also known to be a popular choice for those looking to retire or invest in real estate. In this blog, we'll learn more about what Arrowcreek has to offer and why it's become one of Reno's premier master-planned communities.
Living in Arrowcreek
This incredible master-planned golf community lies on 3,200 acres of land and is surrounded by an abundance of dedicated open space. In addition to Arrowcreek's two championship golf courses, the community offers numerous amenities that are designed to please all age groups.
Among these are a modern fitness center, tennis courts, swimming pools and spas, children's playgrounds, and much more. But what really sets Arrowcreek apart is its raw natural beauty. From the lush green fairways to the stunning mountain views, Arrowcreek offers a breathtaking experience that can't be matched.
Luxurious Homes in Arrowcreek
Would you like to live in a beautifully designed home that offers the utmost comfort along with modern finishes? If so, you may be interested in the real estate options in Arrowcreek, Reno. This remarkable community features a variety of architectural styles, from contemporary homes with spacious floor plans to Craftsman-style bungalows with sweeping views of the Sierra Nevada mountains.
Almost all the homes in Arrowcreek are either semi-custom or fully custom-built, which means that you can create the home of your dreams with all the features and upgrades that you desire. Properties in this community can come with a higher price tag, but the quality and design are unrivaled. As more and more homebuyers flock to Arrowcreek, Reno, there's no better time than now to invest in one of these luxurious properties.
Education Near Arrowcreek
Families with school-aged children can rest assured that their children will receive an excellent education while living in Arrowcreek. The nearby schools feature highly motivated teachers and an impressive array of resources, making it easy for students to flourish in their future endeavors.
Schools serving the Arrowcreek community include:
The Amazing Location
Arrowcreek is just a stone's throw away from Reno's bustling downtown area, offering plenty of shopping, dining, and entertainment options. And if that's not enough, residents can easily explore the nearby outdoors with a myriad of activities such as hiking, biking, camping, and more.
Lake Tahoe, otherwise known as the "Jewel of the Sierra," is also just a short drive away. It's one of the most popular areas in Reno, with its impressive views and exciting attractions such as ski resorts, casinos, and world-renowned beaches. This is a favorite among locals as they consider it a paradise nestled within the beauty of nature.
Nobody wants to have to travel far and wide for activities and entertainment, and with Arrowcreek's amazing location, residents don't have to!
A Golfers Paradise
With over 300 days of sunshine each year, Arrowcreek is an idyllic spot for avid golfers. Not only does it feature two championship courses—The Legends Course and The Challenge Course. These courses offer a combination of dramatic terrain, picturesque views, and challenging fairways—all of which make for an incredible game of golf.
But golf isn't just for the pros, Arrowcreek also offers a variety of golf classes and clinics for beginners, as well as an impressive driving range where players can practice their swing. Families especially find this to be an attractive feature as it encourages a healthier lifestyle for all ages.

The HOA & Amenities
The Arrowcreek Homeowners Association takes great pride in providing residents with top-notch amenities and services. The association takes great care to preserve the community's natural beauty and maintain its upscale lifestyle. The HOA fees include access to a state-of-the-art fitness center, two outdoor swimming pools, tennis courts, and miles of hiking/biking trails.
Not to mention the full-time activities director who plans fun events and activities such as movie nights, holiday parties, wine tastings, and more. By having all of these services and amenities in place, it's easy to see why Arrowcreek has quickly become one of the most desirable places to live in Reno, NV.
Some of the other fantastic amenities that come with living in Arrowcreek include:
A multipurpose room for private classes including yoga, dance, and pilates
BBQ and picnic area
Multiple playgrounds
Basketball and Bocce courts
Meeting rooms
The Community Atmosphere
Arrowcreek's community atmosphere extends far beyond its stunning landscapes and luxurious amenities. This is an all-inclusive community in which everyone takes great pride in their homes and neighborhoods, making it a wonderful place to put down roots and create lasting memories.
While many incredible features, including the spectacular clubhouse that recently underwent a 60 million dollar makeover, have made Arrowcreek a sought-after place to live and play, it's the people that truly make this community stand out.
One of the most treasured times of year in this area is Christmas as the whole community gathers together for the Winter Festival. The Association hosts this annual event and it's a great way to show appreciation for the neighborhood. The festival includes caroling, festive decorations, and even a visit from Santa himself!

Things to Do Near Arrowcreek
Although living in Arrowcreek feels like a world unto itself, it's just a short drive away from all of Reno's best attractions. From the city center to nearby lakes and mountains, there are plenty of things to do in the area.
Outdoor activities include skiing and snowboarding at Mt. Rose Ski Resort, camping and fishing at nearby Pyramid Lake, or hiking the trails of the Sierra Nevada Mountains. Staying busy can be as simple as exploring downtown Reno for its local shops, boutiques, and eateries.
Dining Near Arrowcreek
Food lovers will find plenty to indulge in near Arrowcreek. From casual eateries such as Clary's Bar & Grill to upscale fine dining options like The Twisted Fork, the area has something for everyone. And thanks to its convenient location, many of these restaurants offer breathtaking views of the nearby mountains and cityscape.
Some of the other local favorites include:
Shopping Near Arrowcreek
Just over 10 minutes away from the Arrowcreek gates is The Summit Shopping Center. This massive lifestyle center opened in 2007 and offers more than 65 stores, ranging from popular department stores to local boutiques. Whether you're looking for something in particular or just want to browse, The Summit Shopping Center is sure to have something for you.
They also feature a food court and a movie theater for added entertainment. Families take advantage of the center's focus on community involvement by attending various events throughout the year such as farmer markets, art festivals, and charity events.
Parks & Trails Near Arrowcreek
Outdoor recreation is taken seriously in the Reno area with plenty of opportunities to explore the great outdoors.
Ballardini Ranch Trailhead is a beloved destination that draws many visitors every day. This extensive trail system is perfect for any level of fitness, as it offers easy to difficult trails that are perfect for biking and hiking. At the end of the day, it doesn't really matter where you choose to explore, because wherever you go in and around Arrowcreek, you will be surrounded by unmatched views.
There really are no questions when it comes to the livability of Arrowcreek. From its incredible community to the abundance of nearby attractions, Arrowcreek is nothing short of paradise. And with the way the area is growing, the future only looks brighter. If you're ready to call this area home then pack your bags and get ready for an adventure like no other.
David Tully, located in Reno, Nevada is a detail oriented REAL ESTATE professional that can offer his clients significant experience whether they are first time homebuyer, or experienced seller/buyer relocating to Reno. This experienced real estate professional knows the industry and strives on getting the clients exactly what they are looking for.