The Ultimate List Of The Best Restaurants In Reno, NV
Posted by David Tully on Friday, November 10, 2023 at 8:00 AM
By David Tully / November 10, 2023
Comment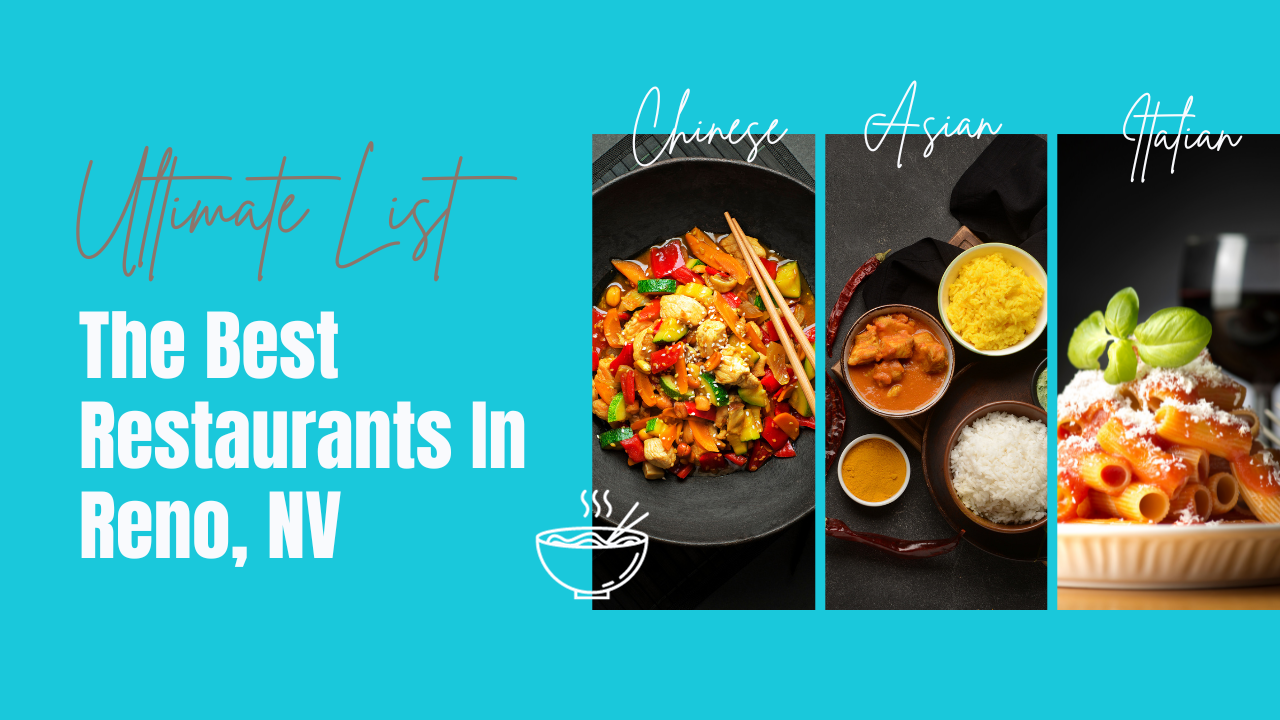 One of the first things about Reno that always stands out for us is the giant sign that says "The Biggest Little City In The World". This small city of Nadava has always been known for its casino business and its classy vibe. The next thing that would attract most people to Reno is its food.
The city offers a vast range of fusion, contemporary, seafood, and more both for the locals and the tourists. So, if you are planning a trip soon, whether for business, vacation or just to try its food, you should be familiar with the best restaurants in Reno. And this article is your ultimate guide to that.

Top 25 Restaurants in Reno, Nevada
Reno has hundreds of excellent restaurants around the city. But it is certainly challenging to go through all of them. So, for your convenience, we have categorized them into the top 25 restaurants from my picks in the following way.
Best Breakfast Restaurants In Reno, NV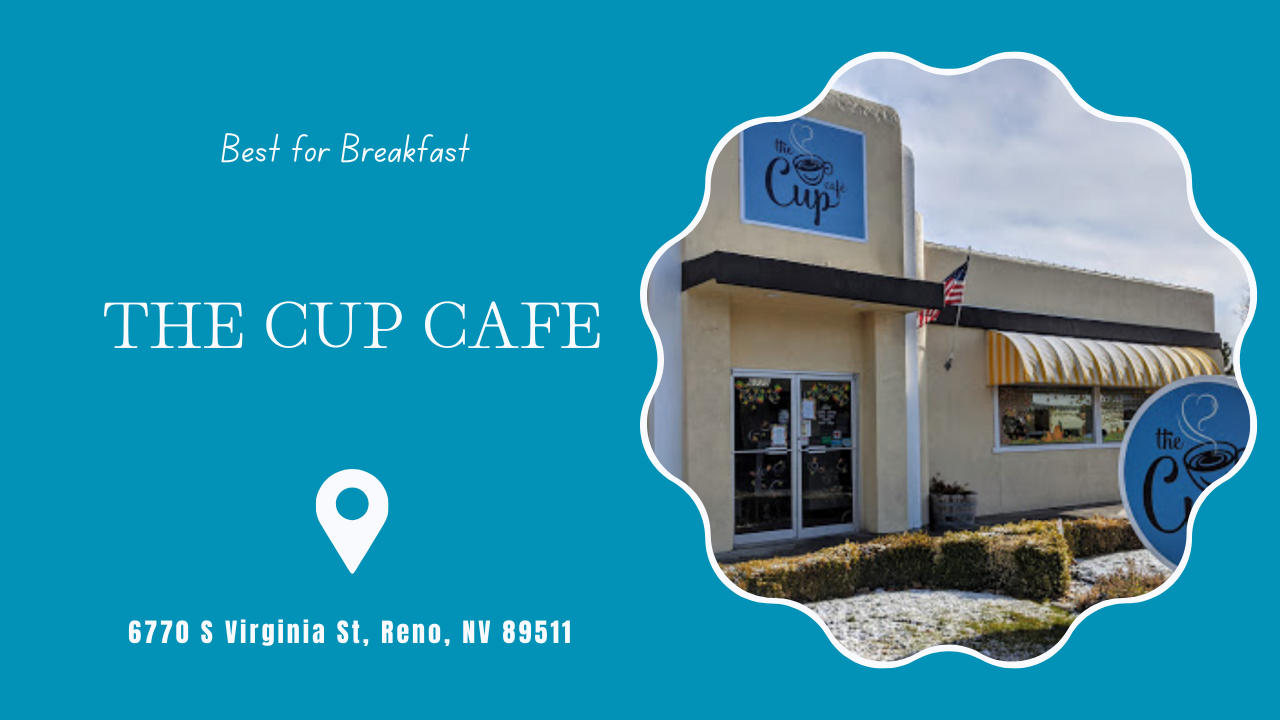 If you want to have a nice and friendly atmosphere to enjoy your breakfast in Reno, you MUST check out The Cup Cafe. It is a local restaurant in Reno that offers homemade breakfast items but also adds a modern twist.
Other than regular egg benedict, they also serve Irish egg benedict, country benedict, bacon avocado benedict. You can also order various scrambles. The best of their breakfast menu is that they allow you to choose your omelet. You can choose 4 ingredients of your choice from their given list to make the omelet. And we must tell you that the list is really long.
"Breakfast was delicious. I had poached eggs and their home fries. It was not greasy like many other restaurants serve. Everything was done perfectly. They offer great coffee, too. Can't wait to go back and try their lunch menu!" one customer shared.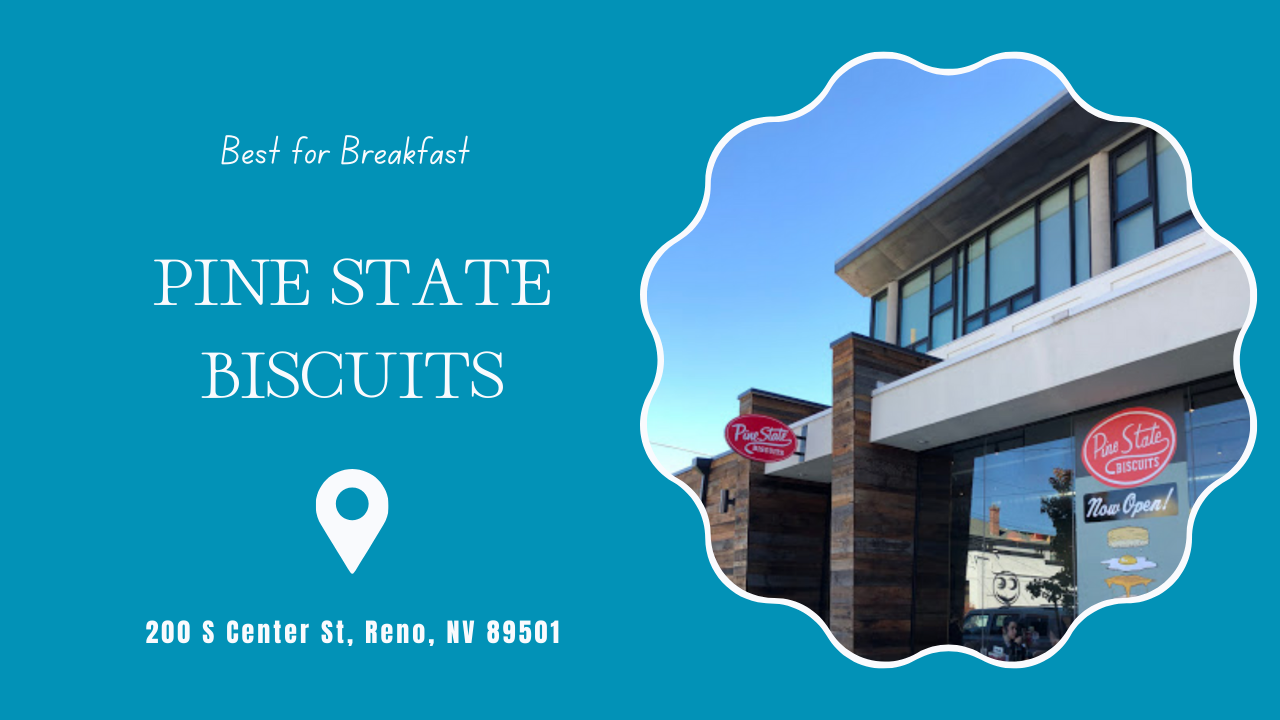 When you step into the Pine State Biscuits, you will be greeted by its lovely decor and clean environment. Their biscuit smothered in gravy is one of the most recommended breakfast items. Even if you are not a biscuit and gravy person, you are bound to love it.

Other than that, you should also try their cinnamon roll, brisket biscuit sandwich, pop tart, etc. Also, don't miss the hash browns and fried chicken.

People who try breakfast here often come back to try the lunch items as well. One of their customers said, "This is the best breakfast and lunch I've had in Reno and in general in a long time. The gravy is the best! Their sweet options are also super delicious. The biscuits are large and really moist, which reminded me of my grandmother's homemade biscuits."
Best Lunch Restaurants In Reno, NV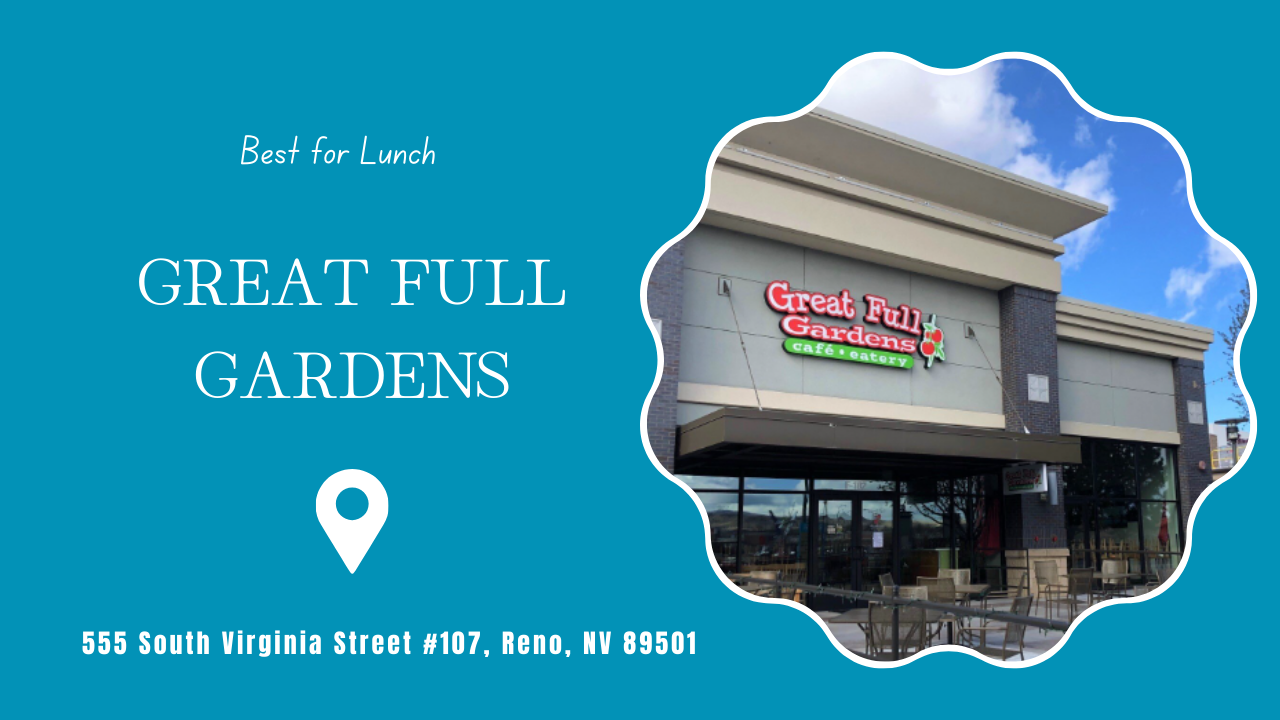 The Great Full Gardens restaurant in Reno is the finest to have a healthy meal for lunch. The food is organic and made with locally sourced ingredients, which will give you an authentic Reno food experience.

The Totally Tomato soup, Paleo Lunch Bowl, hash with spinach, broccoli, and potatoes, is quite popular for lunch. While some lunch sets are quite affordable, many of the items on the menu are pretty expensive.

About the service, one customer described, "The place was busy, but they served a healthy meal quickly. They had a large part in a separate banquet room, which didn't slow them down. Lots of choices. I'd visit again when in Reno."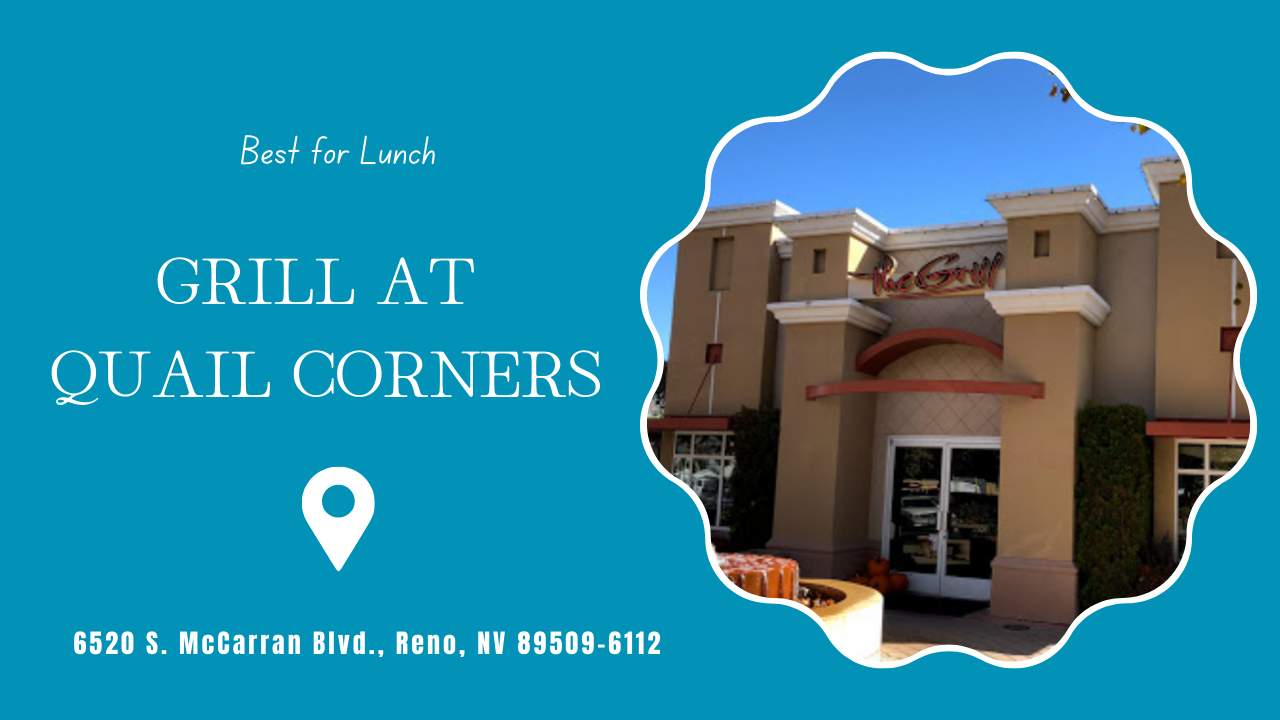 Want to enjoy your lunch in Reno with beautiful mountain and landscape views? Then don't forget to check out Grill At Quail Corners because it offers a memorable food experience with a bright and serene environment and lets customers enjoy their meals inside or on the patio.

At Grill's, the most recommended lunch item is the lamb chops. They will recommend a wine that goes with it. The pizzas are just as delicious as always. And don't forget to try their salads, which are also the best.

"The food was delicious, the waiter was outstanding, and we also loved the ambiance on the patio. The Thai salad is our very favorite for lunch.", one customer left feedback.
Best Dinner Restaurants In Reno, NV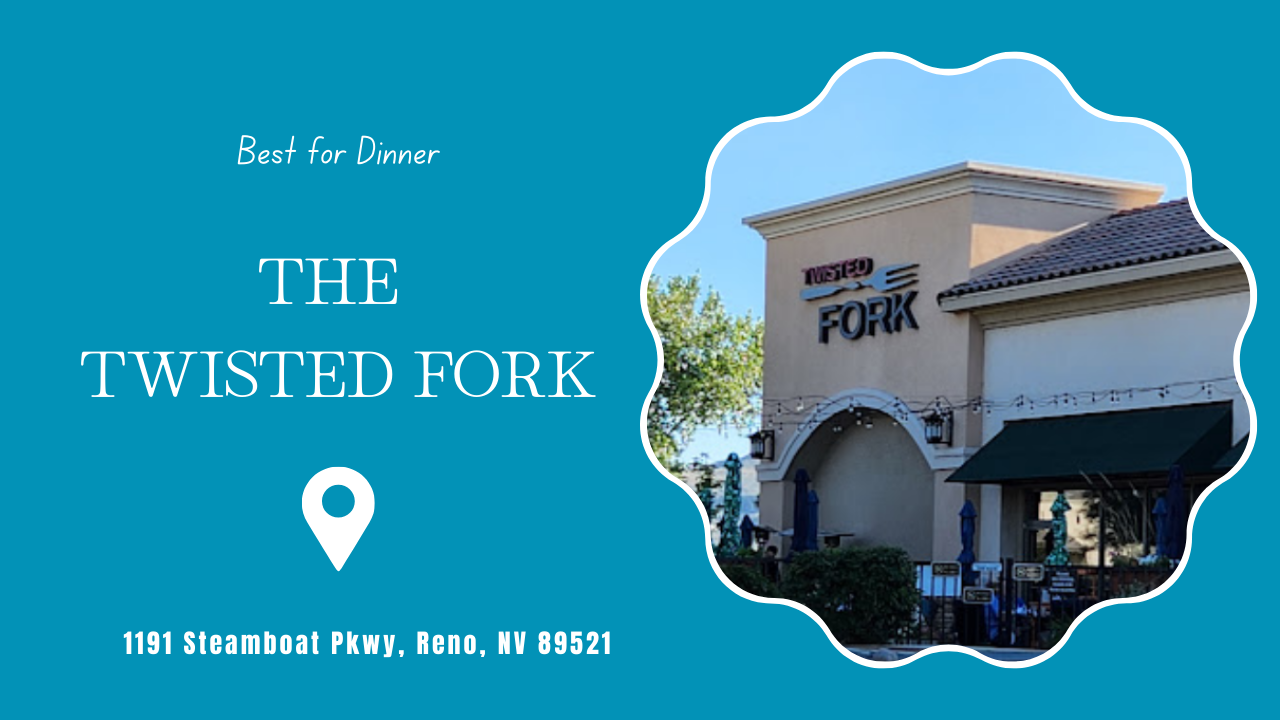 If you want to enjoy delicious American cuisine and cocktails for dinner at a reasonable price, I suggest you head to The Twisted Fork. Make sure to try their homemade items, such as pickles, jam, and other preserves.

Also, Twisted Fork's repeated costumes recommend their short rib grilled cheese, flank steak, Thai salad, cajun shrimp, sausage pasta, etc. As for cocktails, try the peppermint patty, snoopy, or the mojito.

Another reason to love the restaurant is because they often take last-minute reservations if there are open slots. As one person said, "We were a group of 8 people and arrived 9 minutes before they took the last orders. Despite that, we got the seats, and they took orders within the time frame."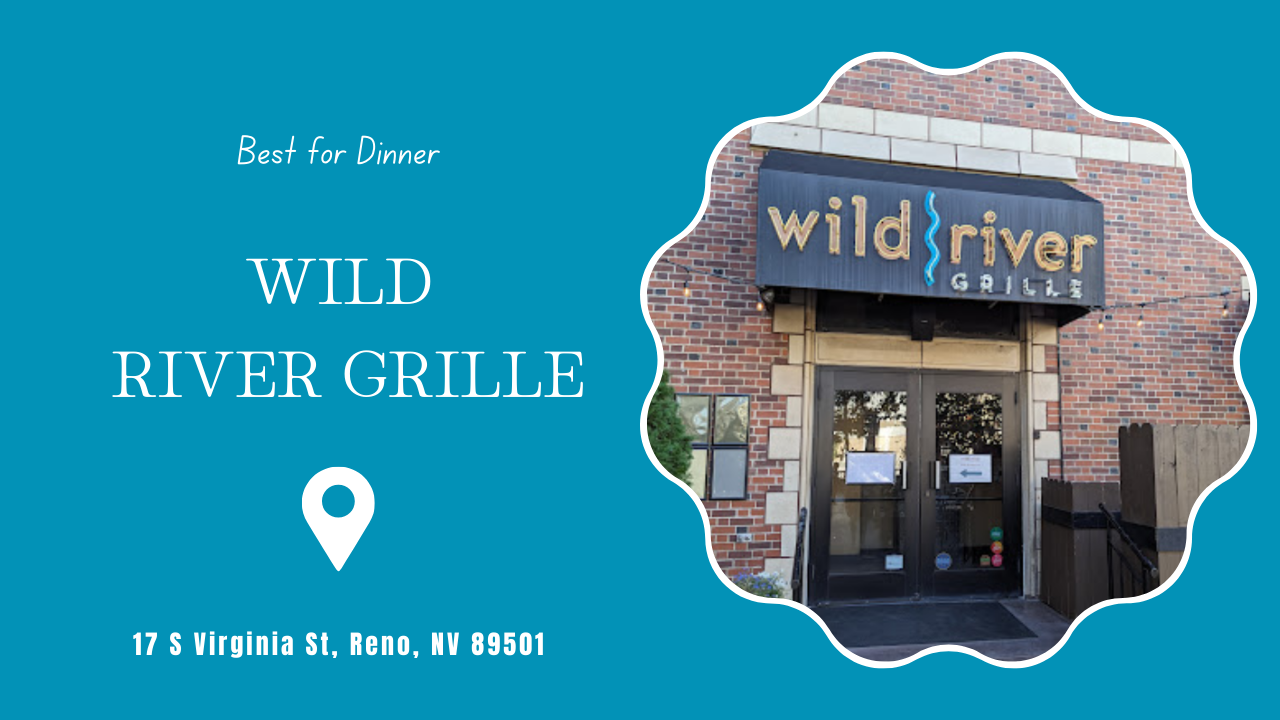 The Wild River Grille, near the historic Riverside Hotel, offers live music as customers enjoy their dinner. Some of their most recommended dinner items are grills, steak, Caesar salad, Wild River salad, mushroom ravioli, caprese bruschetta, etc. Also, make sour to try their soup and various seafood items.

A customer commented on their service, saying, "We all got different items, and all the food came out fast. The food was cooked very well." And it's true because waiting time is pretty much non-existent in Wild River Grille.
Best Mexican Restaurants In Reno, NV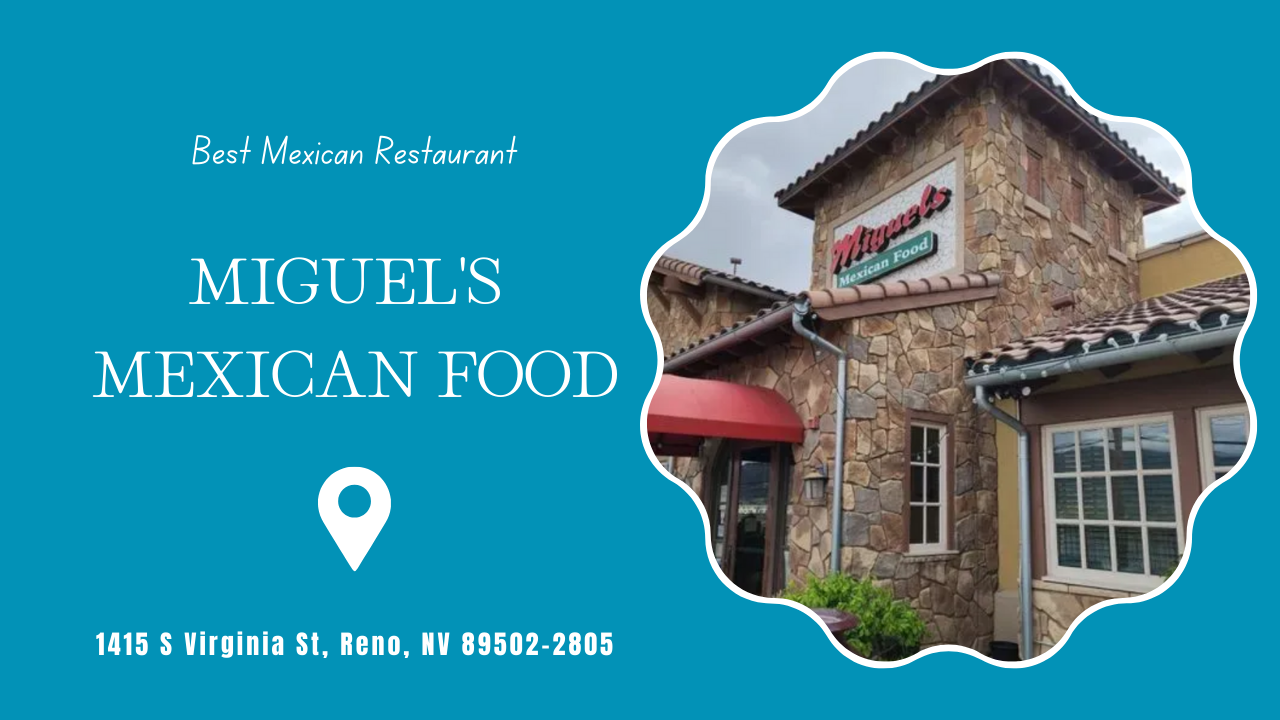 Want to experience authentic Mexican dishes in Reno? Then Miguel's Mexican Food should be your go-to choice. Even customers from as far as Florida say, "This place was fabulous! Their service was really friendly. The price was perfect. I live in Florida but would visit it once a month if I could."

Some of their popular dinner items are chicken fajitas, carne asada, taco feast, chips and salsa, guacamole, chimichanga dinner, enchilada, etc. If you want drinks, try the margaritas, lemonade, or the milkshake.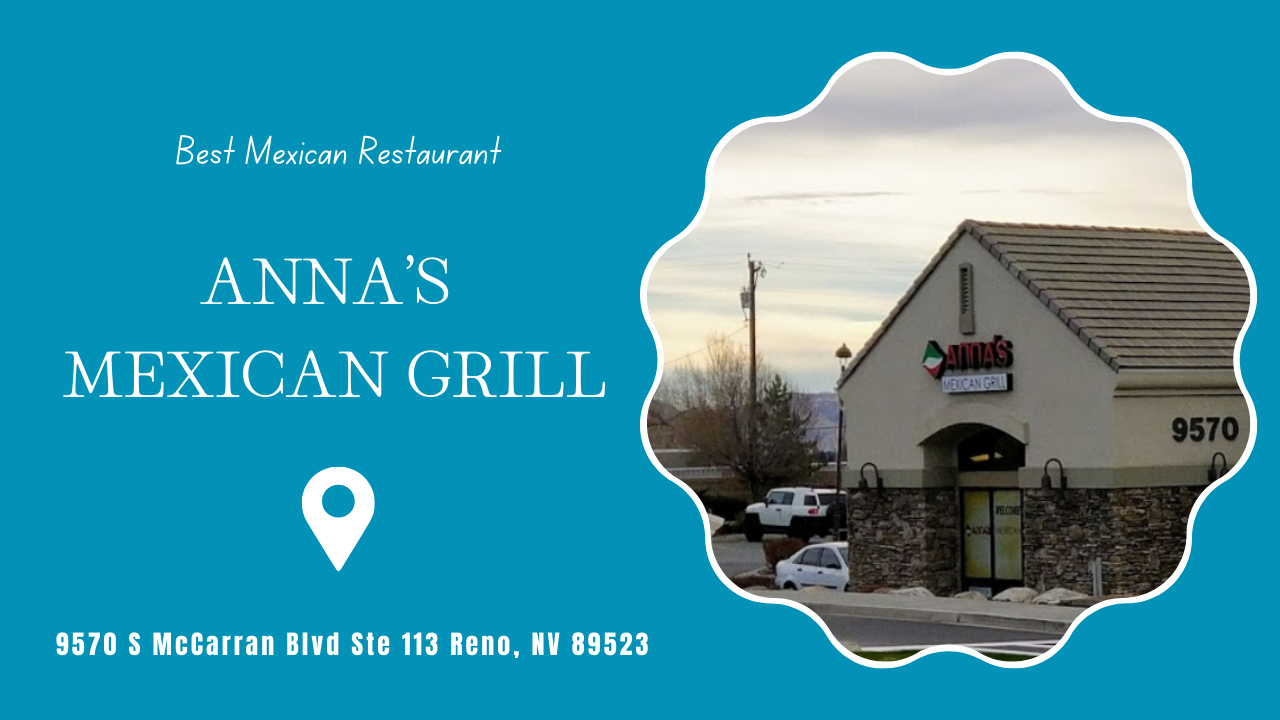 Anna's Mexican Grill is loved by its customers because it offers a great food experience at a good price. The restaurant serves authentic and mouth-watering food items. Moreover, it's clean and family-friendly, and the staff are very friendly.
So, if you happen to check in at Anna's, we have some food recommendations for you, such as tacos de Marco, fish tacos, chicken tacos, Guadalajara tacos, ceviche tradicional, etc. The margaritas are really great here. The lemonades are refreshing, too.
The customer reviews say a lot about why this place is worth trying at least once. "Anna's is a high-end artisan culinary experience. Here, every flavorful item is hand-crafted by cultural culinary experts, a pleasant atmosphere. You got to try Anna's Mexican food at least once! I would definitely eat here again."
Note: Unfortunately, we haven't found any website listed for the restaurant. However, you can call to find out more.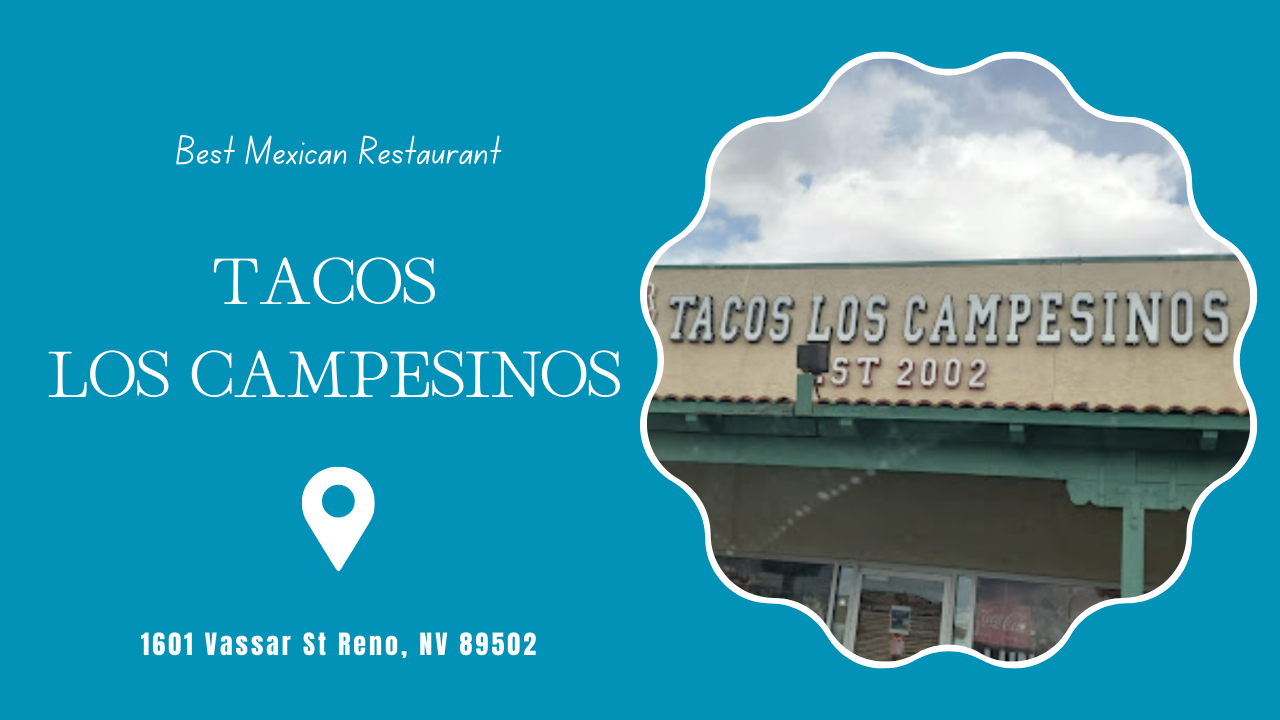 Want to test the best tacos in Reno? Then you should head to the Tacos Los Campesinos. Because the customers would say, "I am Mexican, and this is the most authentic Mexican restaurant you will find in ALL of Reno!! The tacos here are handmade and delicious! It's like a single and thicker kind."

They offer tacos dorados that are usually stuffed with potato. But you can opt for meat if you want to. But tacos are not the only popular and recommended food items here.

Most customers, even the staff, may recommend you to try the great horchata. Other popular items are omelets, tortillas, salsa and chips, grilled chicken fajitas, enchiladas, etc. Also, make sure to try the margaritas. Choose any from the menu, and you won't be disappointed.

Best Italian Restaurants In Reno, NV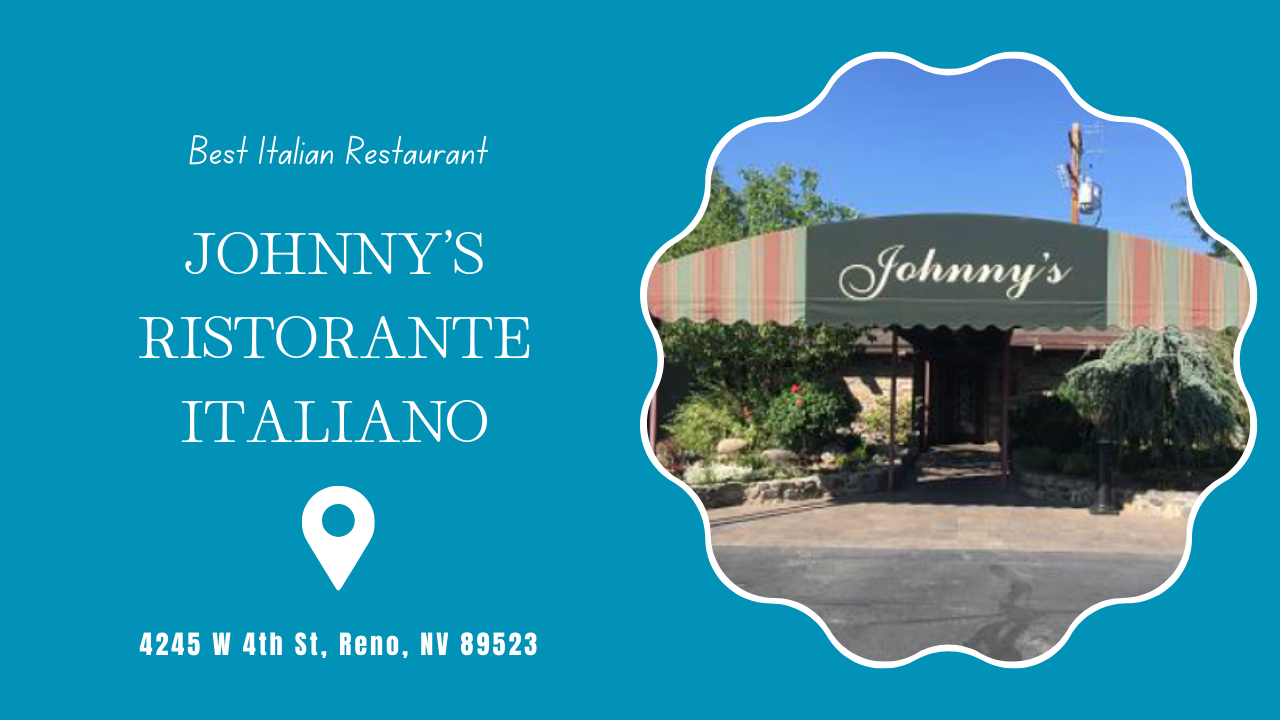 Johnny's Ristorante Italiano can be an exceptional choice if you are looking for an Italian restaurant for a date or to celebrate a special occasion. The name alone tells you that you are going to find authentic Italian food experience there. And as if that's not enough, the restaurant claimed the winning title of Reno Gazette-Journal for several years in a row.

So if you visit the place, you should try the garlic bread, fettuccine alfredo, lasagna, and, of course, the pizza at Johnny's. The tiramisu and cheesecake are also great for desserts. As for the experience, one customer said, "Authentic Italian food and quite the panoramic view. A great place for special occasions."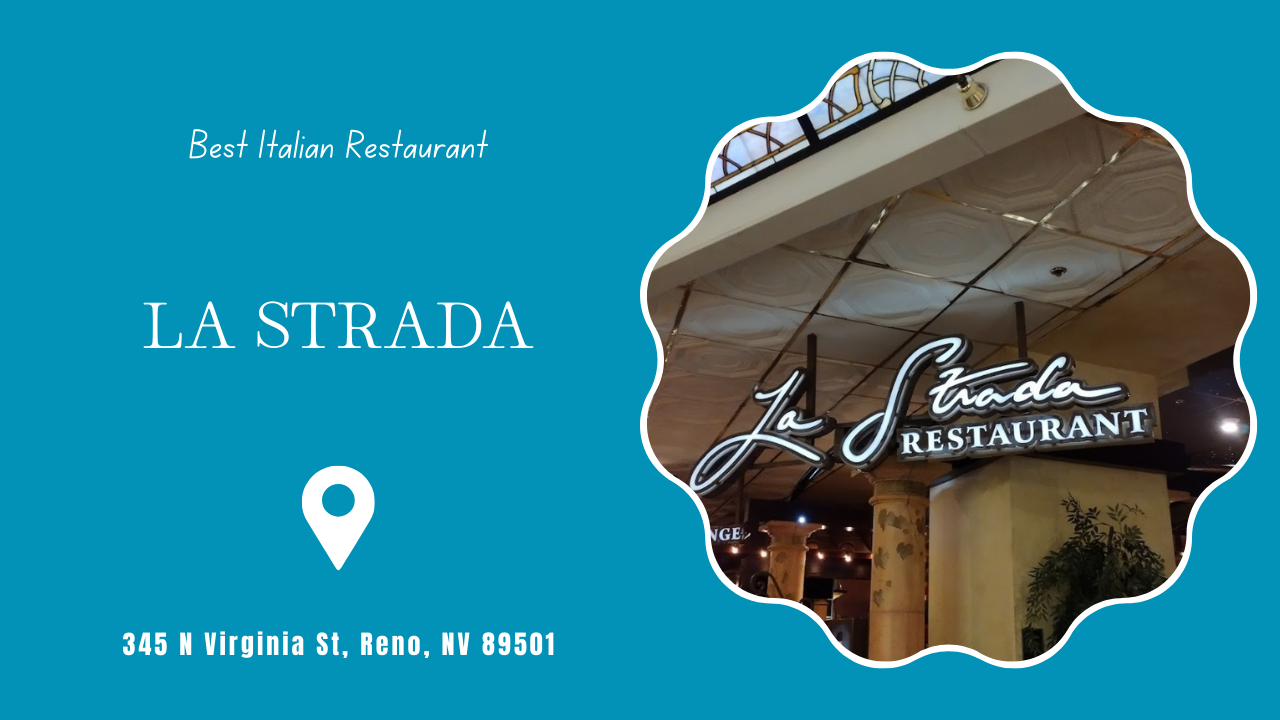 Though the restaurant opens only for a few hours, La Strada is one of the finest Italian restaurants in Reno and ideal for late-night dinners as well. Their mushroom ravioli is a must-try. But we would also recommend you to check out the seafood linguini, Caesar salad, etc.

"It's the best restaurant I've ever been to in Reno. It was so nice that I want to come again to enjoy both the taste and service without any regret." one customer said. So you can look forward to a nice experience.
Best Asian Restaurants In Reno, NV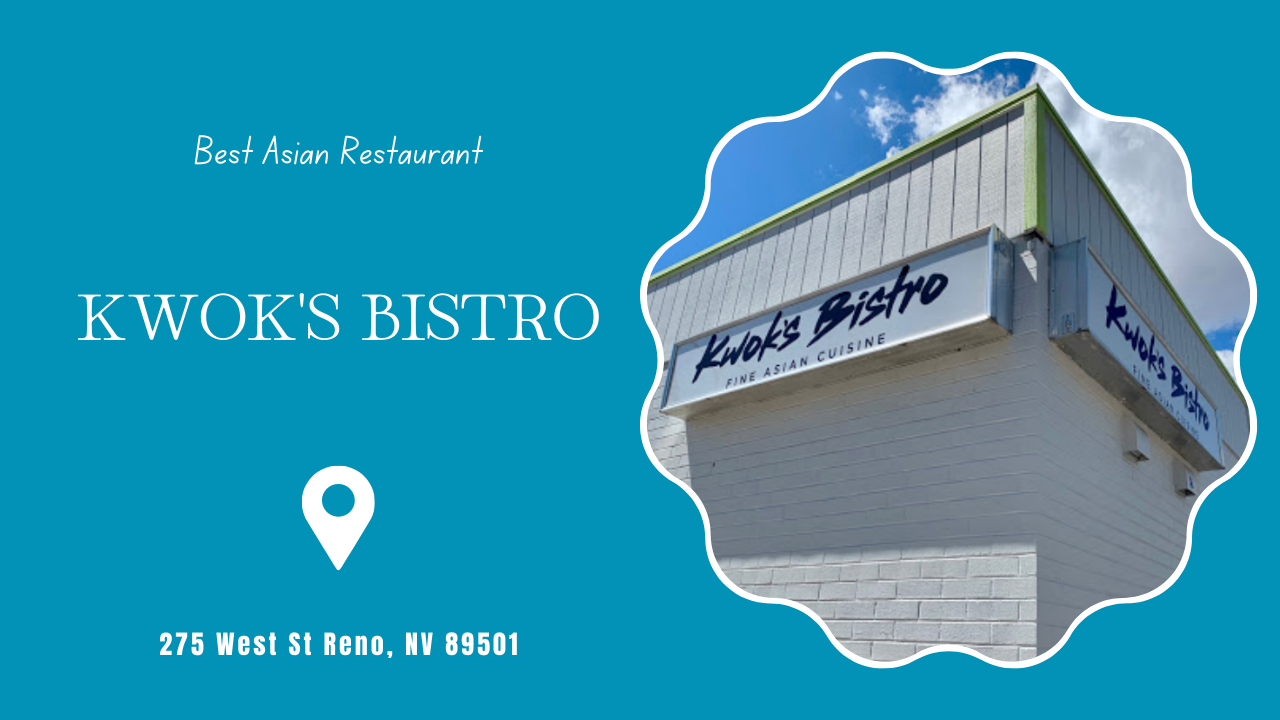 If you are looking for the best Asian food with a mix of fusion, Kwok's Bistro is the right place for you. It's an upscale Chinese food restaurant that offers everything from traditional clay pot dishes to modern food items.

"The best Chinese food I've had in years. Great food, great service, it is my favorite place to eat in Reno. It was difficult to choose when ordering because everything sounded so delicious, and it was." an excited customer shared. So what delicious dishes should you try there?

Some popular items here are crab Rangoon, wonton soups and noodles, Mongolian beef, Peking duck, five-spice chicken wings, etc. And don't miss the dumplings.

We must mention that it's a small place. So it is best to make a reservation or be there beforehand.

It's quite impossible to be a foodie and an Asian food lover without loving sushi. And, of course, you will love a variety of sushis. So here in Reno, you can check out the Tokyo Sushi place to experience delicious sushi. It's one of the best restaurants in the entire 89502 zip code.

If you are super hungry and want to get your tummy stuffed, go for All You Can Eat sushi. But remember, every restaurant has its own set of rules for it. As for Tokyo Sushi, you must finish all the rice to get more fish. You should also try the Miso soup and crab balls.

A customer shared, "I've been stopping here for sushi for a couple of years. It's a fantastic place. They have interesting flavor combinations. All-you-can-eat sushi is the best thing here."
Bangkok Cuisine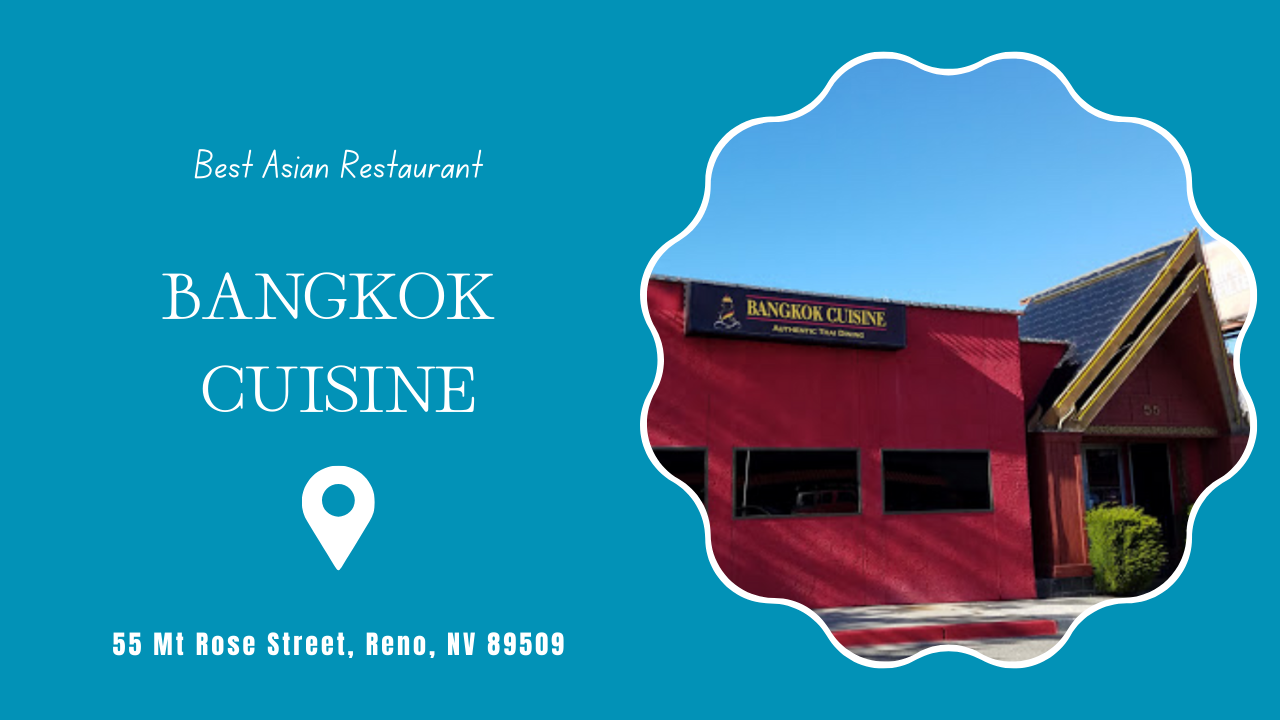 Located on the breathtaking Mt. Rose in Reno, the classic Thai decor of Bangkok Cuisine will give you an authentic vibe. You can enjoy vegetables and curry of many colors. They also offer various meal combos for different days.
Some popular and recommended dishes you should try are red curry, green curry, beef salad, mixed vegetable coconut soup, noodles with spicy basil and chili sauce, etc. You should also try the rice menu, mixed salads, appetizers, and desserts.
"I absolutely love this place. The pad thai was delicious, and the coconut ice cream was to die for. Always recommend this place to family and friends." shared a regular customer.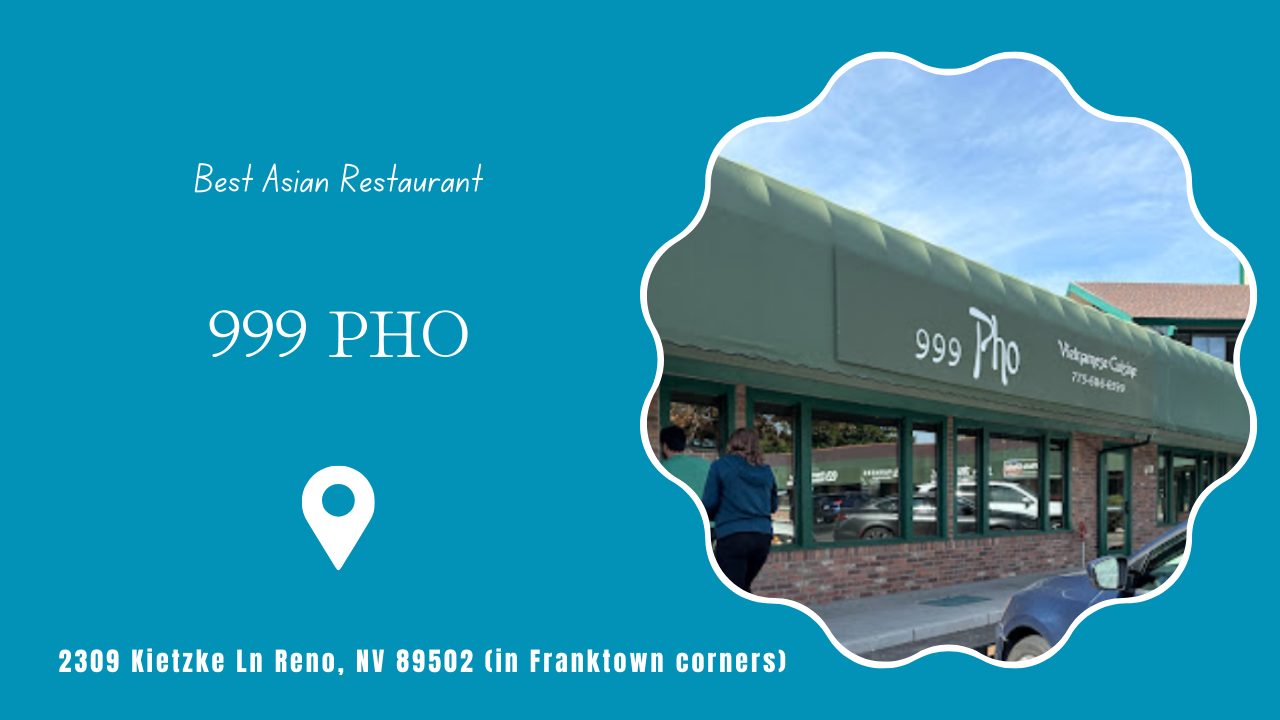 Not many people talk about it, but 999 Pho is a decent restaurant if you want to try Vietnamese food. And if you go there, make sure to taste the Bún bò Huế. It is a traditional Vietnamese dish with rice, noodles, soup, sliced beef, pork bone, etc. It tastes a bit spicy and salty, which makes it more original.
"Ordered the Bun bo hue. The bowl was huge and full of meat. Also, I got the spring rolls and a strawberry smoothie." one customer said. We also noticed that the spring rolls and smoothies here are also very popular. And don't miss the Pho.
Note: We couldn't find any website listed for this restaurant. So call ahead to know more.
Best Casino Restaurants In Reno, NV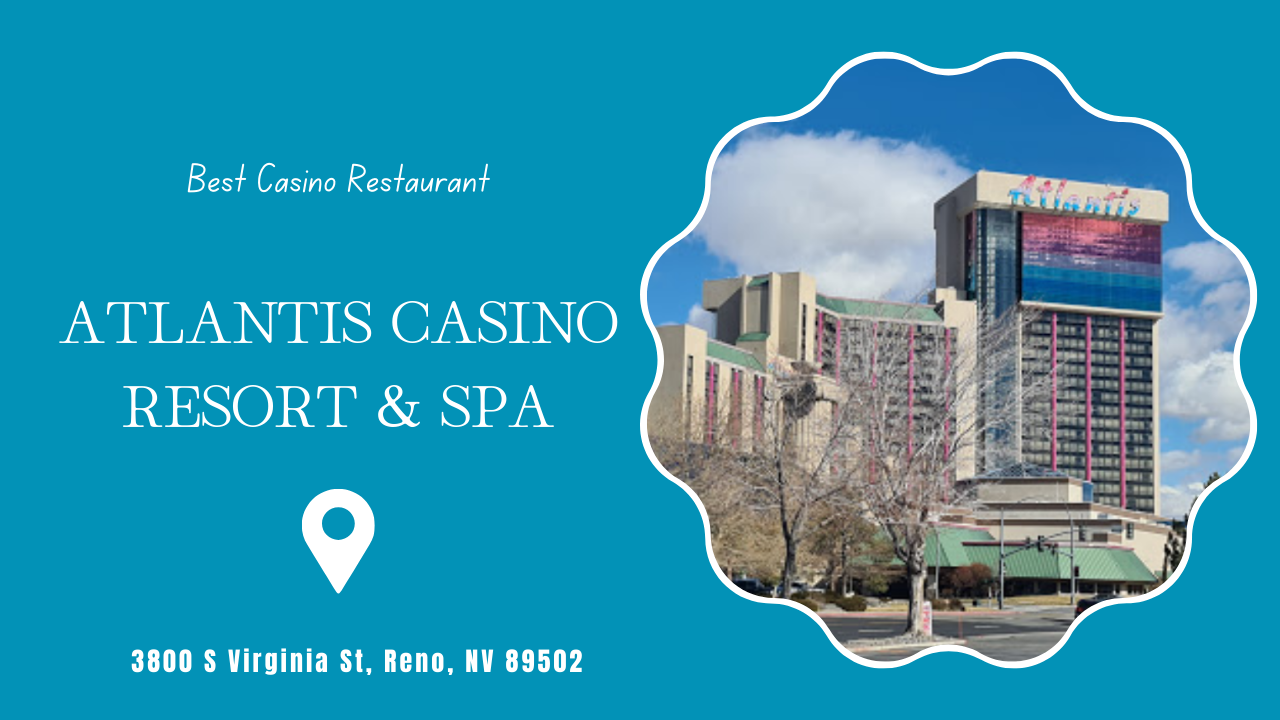 This luxurious resort has 8 restaurants and a vast casino. And since there are several restaurants and many food options, you will find it hard to decide which one to choose.

If you are craving steaks, Atlantis Steak House would be the best choice. You can visit the Purple Parrot for American dishes, and the restaurant serves 24 hours.
According to one of the customers, "If you want to take a quick but satisfying meal, the Purple Parrot is the best great little diner." And Bistro Napa serves mouth-watering Californian cuisine.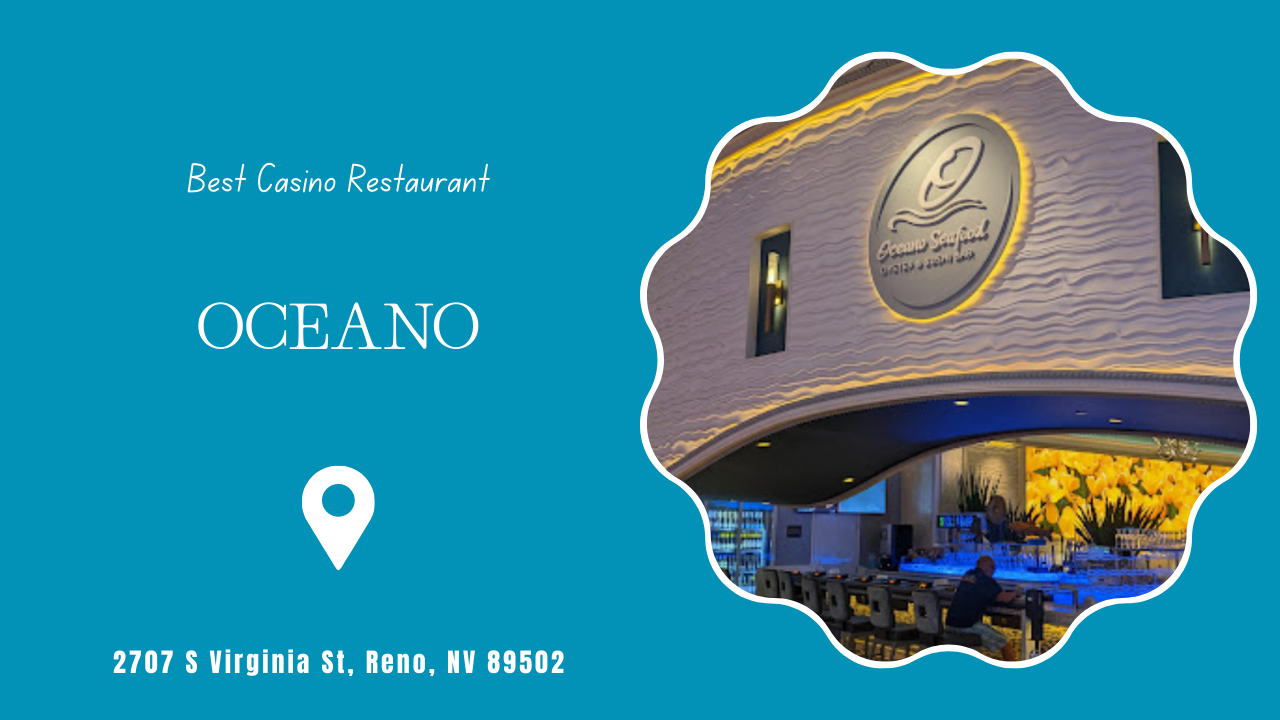 Oceano is one of the restaurants under the Peppermill Resort Spa Casino in Reno. This place is very well-known for its sushi, stews, and more. It is also, as a customer described, "It is a lovely place to have great seafood at fair market price, and very nice people work here."

It also offers various fish and vegetable items. And you can enjoy all that, with the view of the ocean. Also, this place is perfect if you are looking for an elite and classy environment.

Best Vegan Restaurants In Reno, NV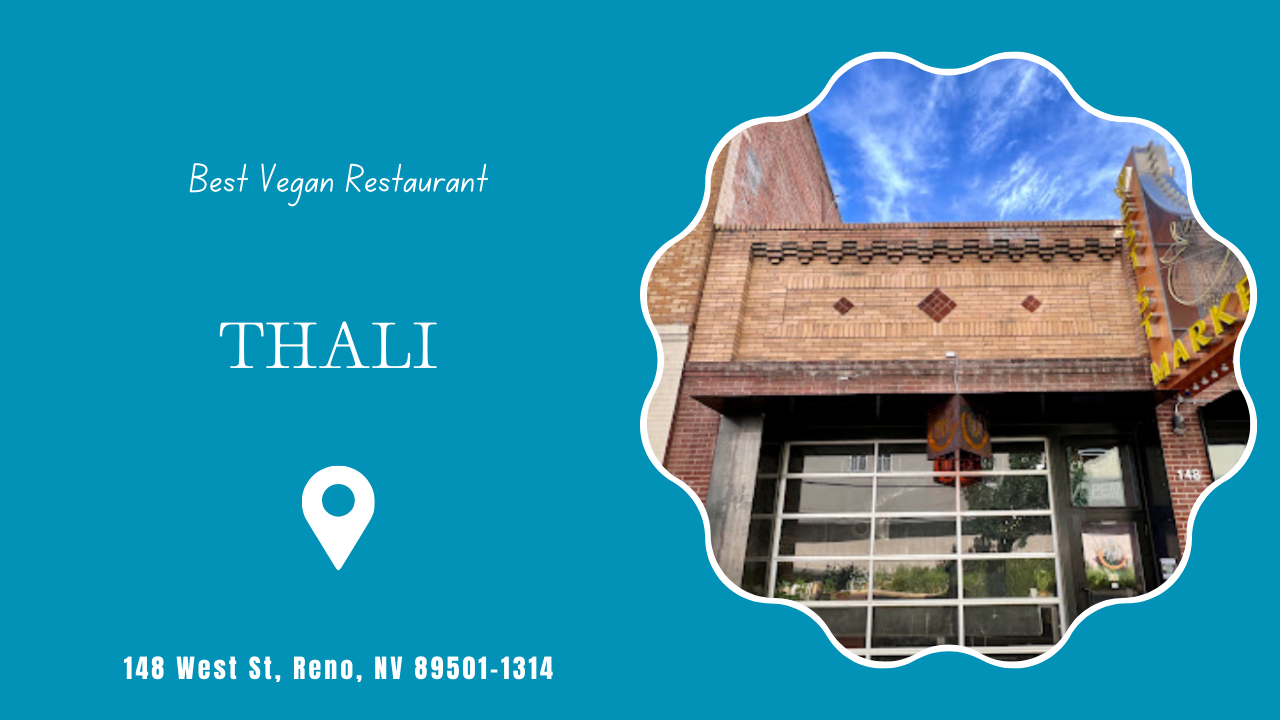 Thali is a North Indian family-owned business where you can enjoy as much food as you want for a fixed price. The restaurant offers a range of organic and authentic vegetarian and vegan items. The rotating menu makes the meals even more fun.
One customer said, "The menu changes every day, and there are Vegan or Vegetarian choices. You can get a bowl or All You Can eat. Yummy!"
We would recommend you try their daal, various curries, roti, and chutney. You can also get yourself gluten-free options.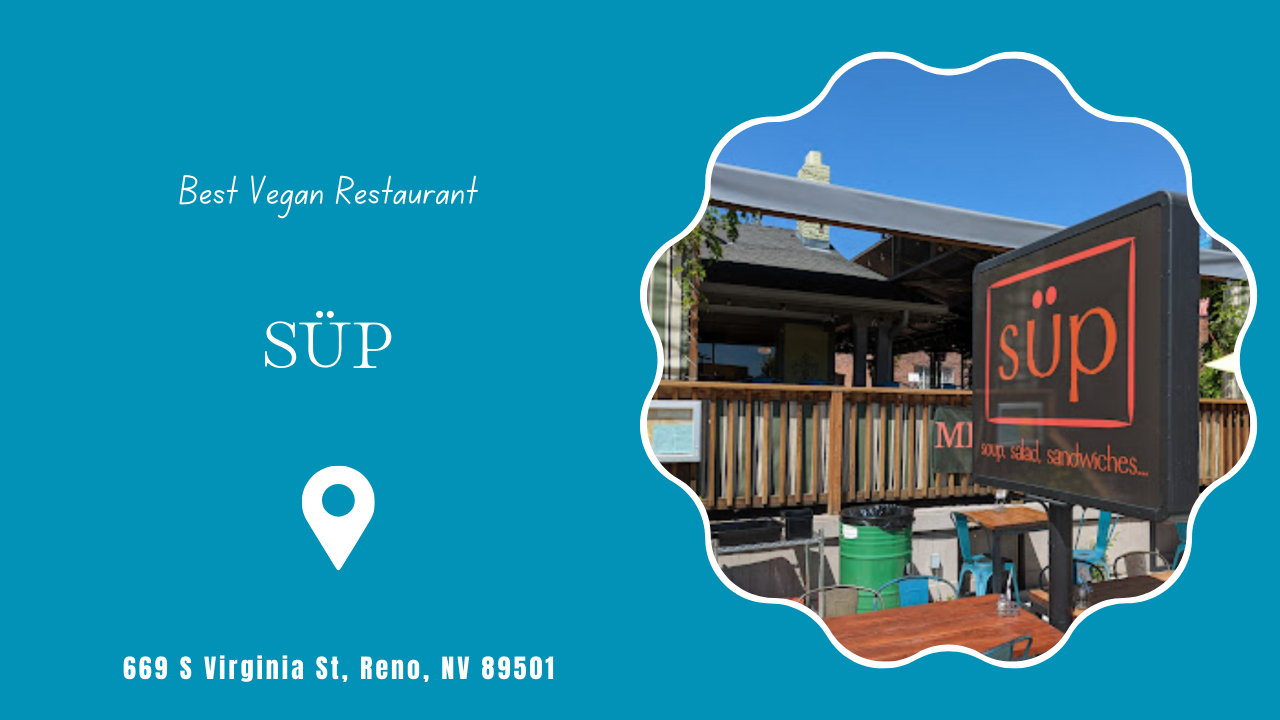 Süp is yet another popular restaurant in Reno that offers excellent vegan and vegetarian options. The restaurant uses its own homemade recipe to create each item from scratch daily. And the best part is their soup changes every day, which means you can try something new on different days.
Regular visitors there recommend the vegan split pea, toasted veggie sandwich, vegan tomato bisque, etc. Honestly, all their vegan options are great. Just like one of their customers said, "With a pretty limited menu, Sup has lots of vegan options. I never had something I didn't like here. Also, who doesn't love a free little cookie?"
Best Family Restaurants In Reno, NV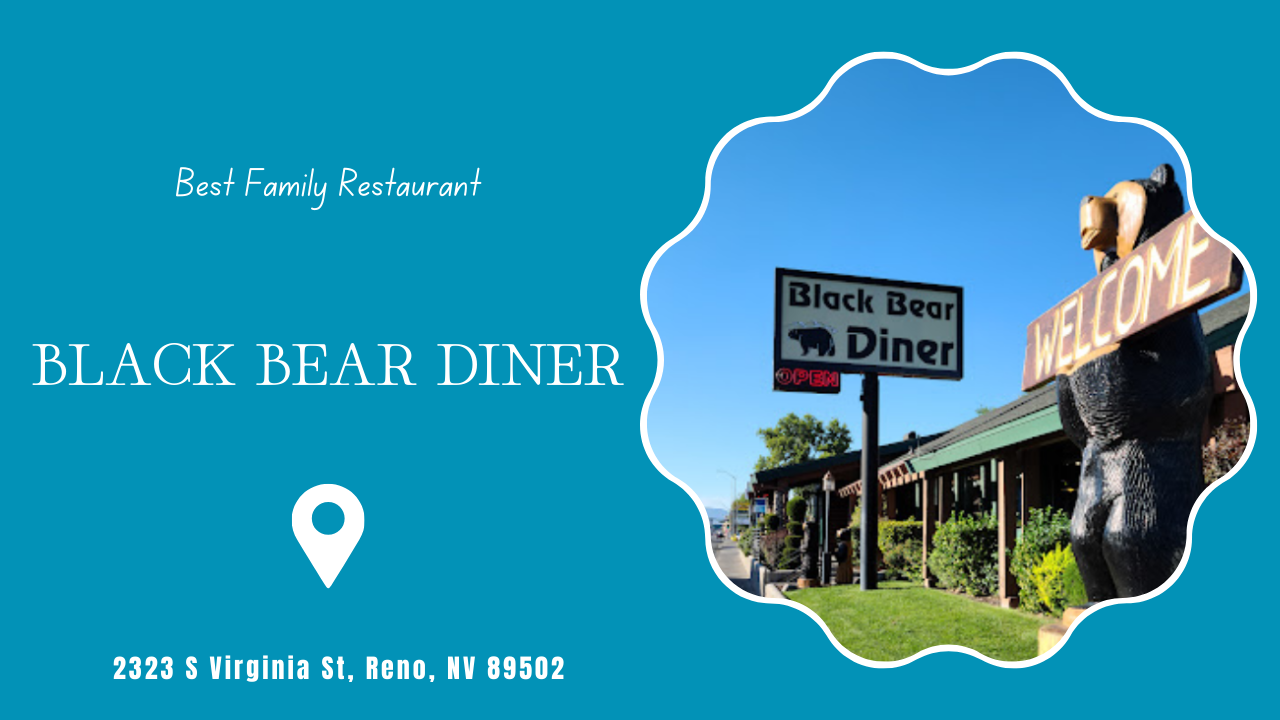 "My whole family went to eat here. Some of us had breakfast, and others had lunch. This is our first time eating at these restaurants. And I have to admit, the portions are big. I can't eat all the food. I heard that the hamburgers are delicious. Gotta try them."

As you can tell from this customer review, Black Bear Diner is the perfect place if you want to take your entire family out for breakfast, lunch, or dinner. Their pancakes, sausage, and eggs are great as breakfast items. Their best-selling item is the chicken fried steak.
One of the things that everyone loves about the Black Bear Diner is its big servings. Sometimes, it becomes challenging to finish the entire plate.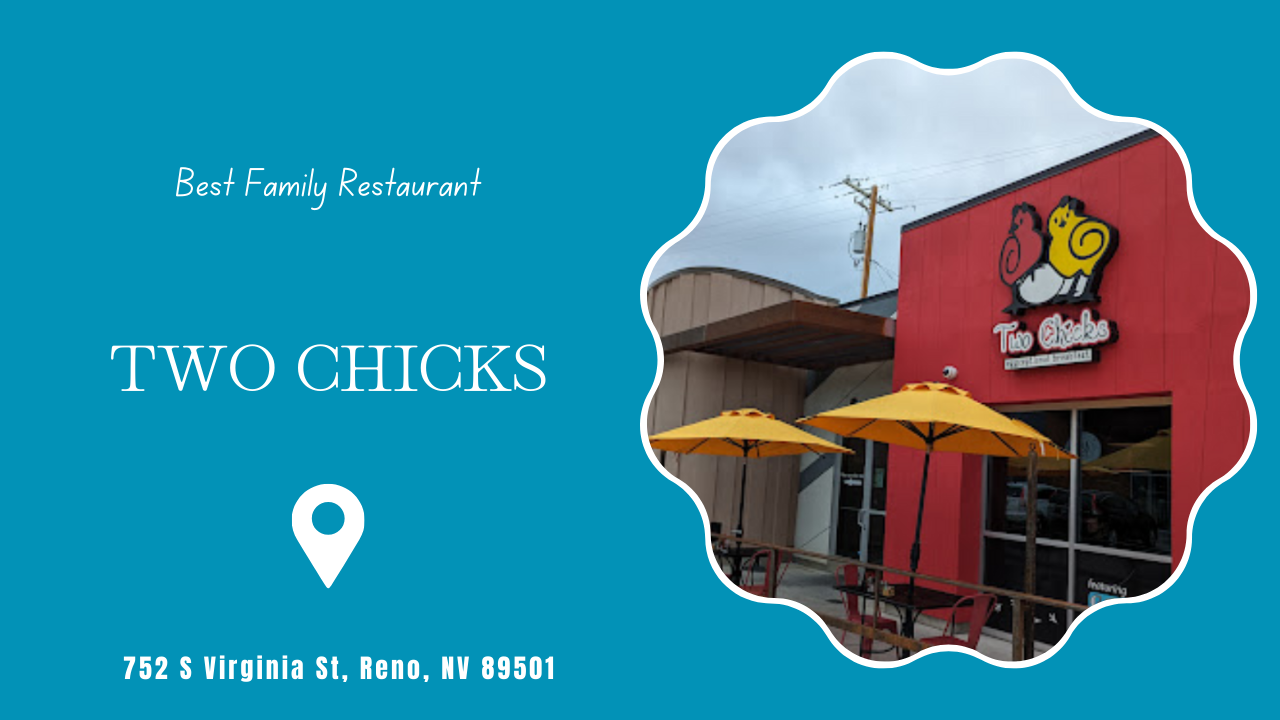 Craving some contemporary breakfast or lunch? You should head to Two Chicks. Along with various meal options for adults, this restaurant has a special menu for kids as well, making it a perfect place for a family outing.

One customer's feedback says, "Super friendly, personable staff. Also, it has a clean, comfortable environment. I will definitely take my kids there again. Not often a place with great food is so kid-friendly."

And when you are there, make sure to try egg benedicts, sweet potato pancakes, chicken fried steak, and, of course, don't miss the coffee.
Best Steak Restaurants In Reno, NV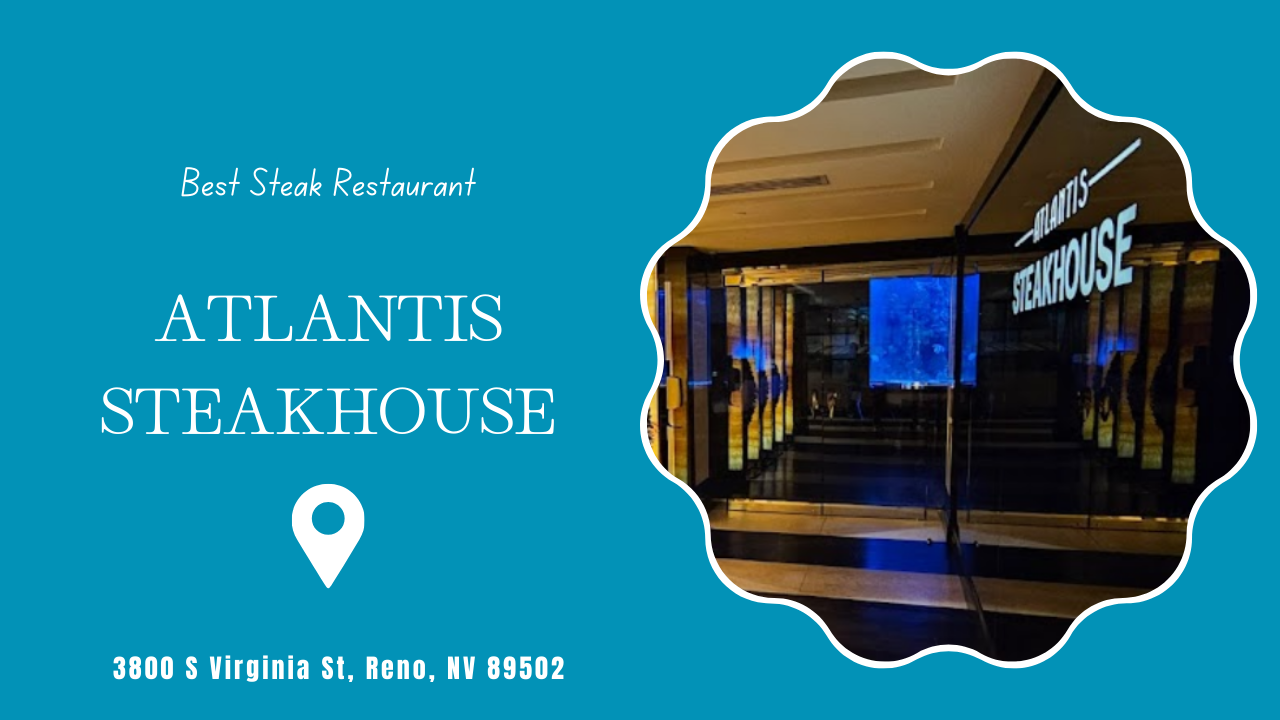 Remember Atlantis Casino Resort & Spa discussed above, which has 8 restaurants? Well, one of them and the most popular lavish steakhouse, Atlantis Steakhouse, is one of them.

As a customer described, "Excellent all around. The best dining experience I've had around here."
Other than their signature steak and lobster, steak, and shrimp, make sure to try the lamb chops, soups, and salads.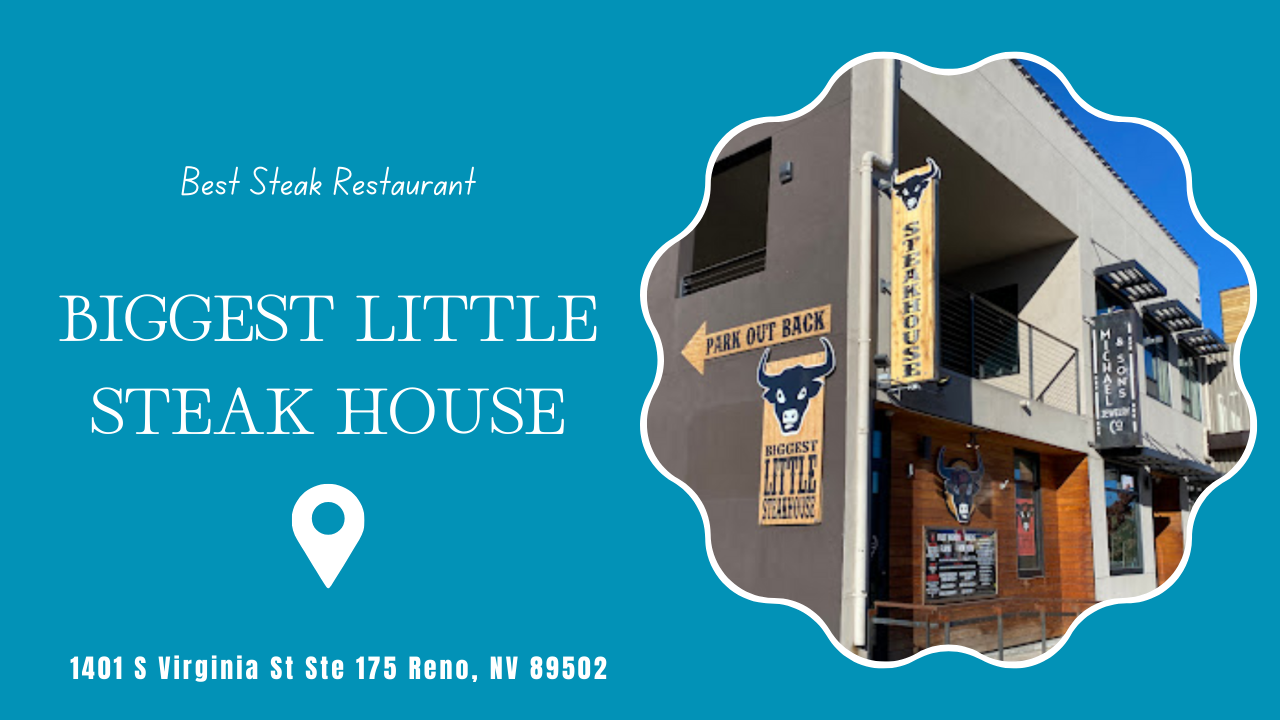 "Biggest Little Steak House" sounds just like Reno's title "Biggest Little City In The World." So you can tell the restaurant wants to give you the best of Reno. It is a steak house and bar that offers various food at an affordable price with indoor and outdoor seating options.

Some popular food items here are filet mignon, rib-eye steak, pork chop, mac n cheese, etc. The beef pot pie is pretty unique and tastes very delicious. Don't forget the salad with their homemade sauce because it is just as good as everything else. Moreover, they also offer various options for kids' meals, and there are two happy hours.

As for drinks, there are various options as well. And if you don't know what to order, the staff can recommend you something. Also, if you are not a drinker, they will prepare you a non-alcoholic drink even if it's off the menu. Cool, right?

"This place is a hidden gem! Atmosphere and a variety of steak menus. I do not drink, and the staff offered to make me a non-alcoholic cocktail even if it was not listed on the menu. The service is very exceptional.", one customer shared.
Best Hamburgers In Reno, NV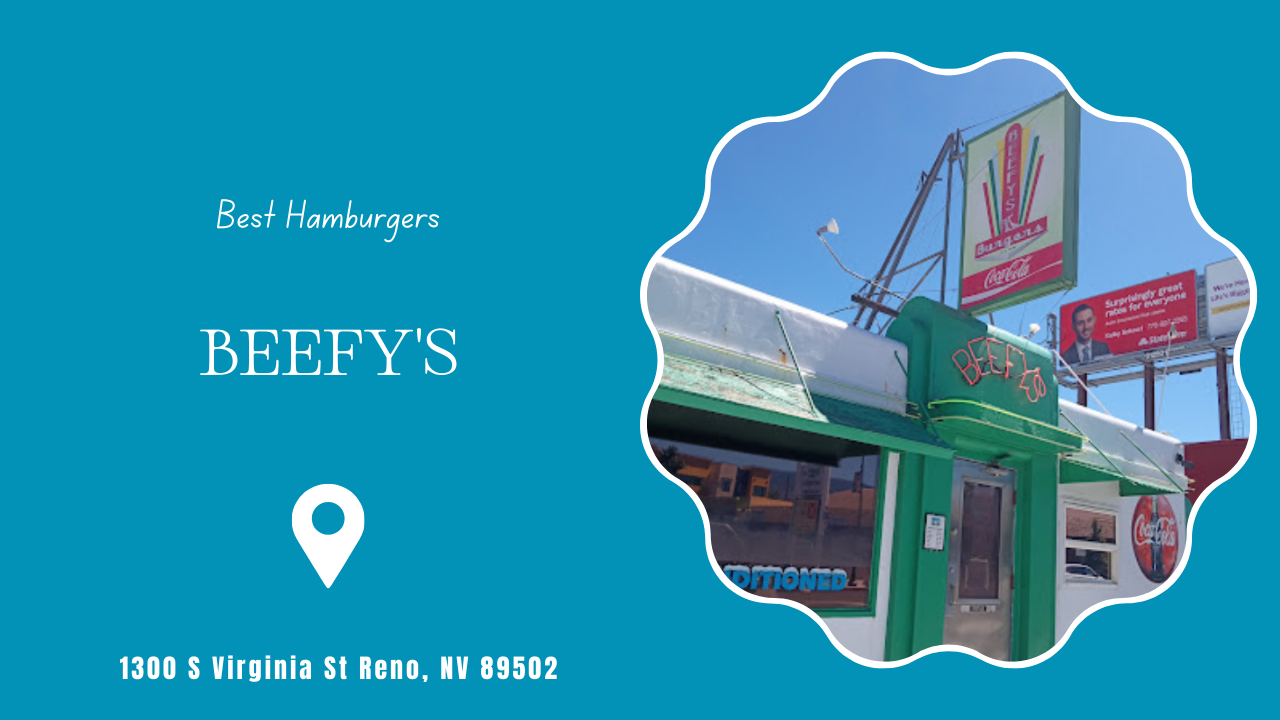 Located in Midtown, Beefy's is a signature place if you want to experience the best hamburger in Reno. With its retro-styled decor and classic vibe, you are bound to enjoy whatever Beefy offers. They get the beef from local butcher shops and offer a variety of hamburgers.
"What a great little burger place! Had an awesome burger, and it was juicy and very flavorful. The cheese was melting everywhere. And the bun was perfect. This is one of the top 3 burgers I have ever had. Even it smelled incredible!" shared a happy customer.
So yeah! You now know what to expect if you go there. Some of their popular burgers are Kansas city burgers, onion burgers, Korean burgers, pizza burgers, etc. The breakfast burger comes with fried eggs and bacon. And the interesting part of Beefy's is that they offer more than 30 craft beers on taps.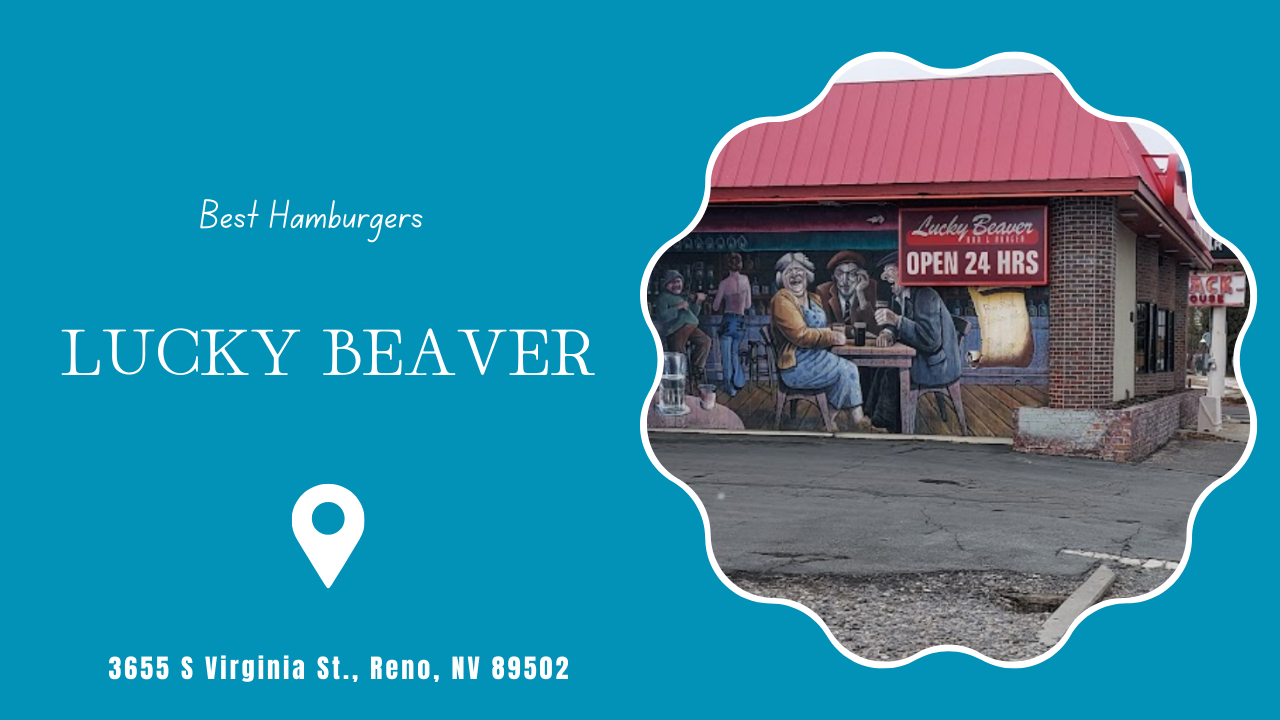 Do you tend to crave for food, such as hamburgers, at odd times of the day or night? Then, you have the Lucky Beaver to satisfy your craving. This is a bar and burger place that stays open 24/7 and even has a gaming zone.

First comes their signature steak burgers that are recommended by pretty much everyone who tried it. From this burger menu, you can try the gambler, pit boss, royal flush, etc. Also, the aged burgers are all delicious, no matter which one you try.
One of the customers stated, "Remember to order the signature burger. It is so good that it makes me wanna go back soon again. It was very delicious, and the service was excellent! The best place to get that beyond burger is in Reno! Highly recommended."
And if you are hanging out late at night and in the mood for a drink, you can enjoy their wines, beers, cocktails, and beverages. Moreover, they let you enjoy some gaming time and offer various rewards. So it's a place of adventure too.

Frequently Asked Questions
Is Reno a foodie city?
Reno is mainly a city famous for tourism and casinos. And that attracts people, including foodies, from all over the world to try various foods here. So now, Reno is also known as a foodie city.

What's unique about Reno's food scene?
Reno, despite being a small city, offers a variety of food scenes. From bread and breakfast to luxury casino resorts, Reno has it all. You can find restaurants based on your choice to enjoy various cuisines, seafood, pasta, pizzas, and more when having a view of mountains, landscapes, or the ocean.
What is the oldest restaurant in Reno?
The Casale's Halfway Club is the oldest restaurant in Reno. It opened in 1937 and has been active ever since. This Italian restaurant is popular for pizza, ravioli, lasagna, meatballs, and cocktails.
What's the average price range for dining in Reno?
The price of food in Reno varies depending on the restaurant and meal combo type. Nevertheless, if you want a decent meal, the average cost can be around $15-$20 per meal and around $50-$60 per day.
Can I find restaurants with outdoor seating in Reno?
Many restaurants in Reno have outdoor or patio seating, such as Grill At Quail Corners, The Twisted Fork, Wild River Grille, etc. You will find many more restaurants in Reno that offer outdoor seating.
Is there a dress code for fine-dining restaurants in Reno?
Though there is no hard and fast dress code, casuals are always an acceptable dress code for any restaurant in Reno. But if you are attending an event or going to a steakhouse, wearing something more fashionable is recommended.
Conclusion
If you want to experience the food world of Reno, you have way too many options. Whether you want to have breakfast, brunch, lunch, or dinner, you can easily find something traditional, classy, or luxurious here.

I have listed 25 such restaurants after lots of research. But if you want my Editor's Choice recommendation list, The Cup Cafe will be one of the first because it's ideal for meals at a reasonable price.

I would also like to recommend Grill At Quail Corners because of its beautiful view and the Atlantis Steakhouse because it will be worth it. And if you are looking for vegan options, don't forget to visit Thali.