Living In Midtown Reno: What It's Really Like! [2023 Edition]
Posted by David Tully on Tuesday, April 11, 2023 at 3:22:02 AM
By David Tully / April 11, 2023
Comment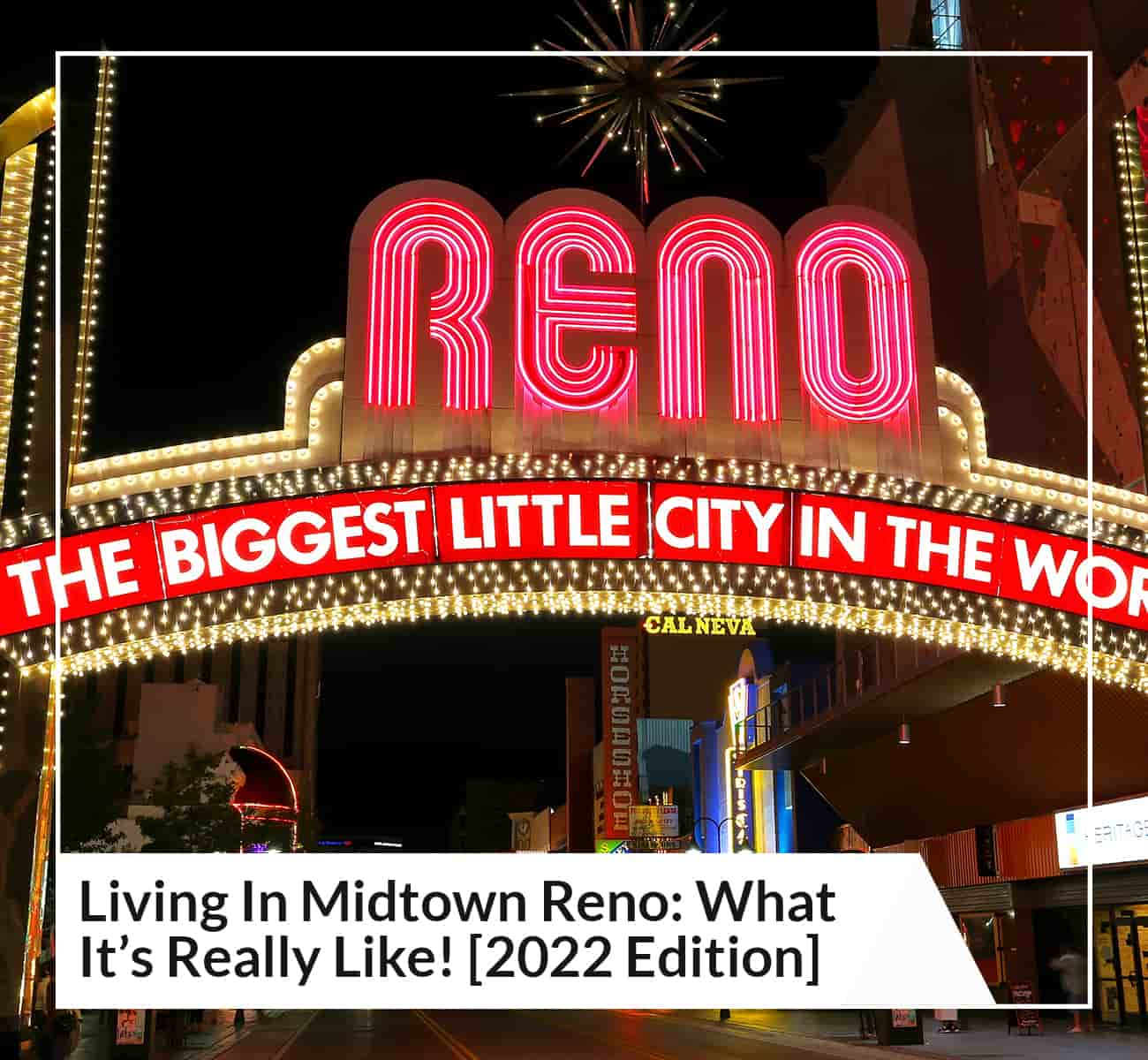 Everything you've ever wanted is waiting for you in Midtown Reno, NV! With its vibrant culture, beautiful scenery, and endless opportunities for excitement and recreation, this growing area is perfect for buyers searching for their dream homes.
Whether you're looking for a place to raise a family or just want to enjoy the good life, Midtown Reno has something to offer everyone. Keep reading to learn more about what makes this exciting locale so special and find out why it's quickly becoming one of the most desirable places to live in Nevada.
Living in Midtown Reno
Midtown Reno is a lively and unique district that is located between South Virginia Street and Holcomb Ave. This area is home to a diverse range of cultural attractions, shops, and restaurants. The lively atmosphere and convenient location make Midtown Reno an excellent place to live.
There are a variety of housing options available, and the area is well-connected to the rest of the city. In addition, Midtown Reno is within walking distance of several parks, making it a great place to enjoy the outdoors. Regardless of your budget or lifestyle, you're sure to find a place to call home in this thriving community.
Homes For Sale in Midtown Reno
If you're thinking of moving to Midtown Reno, you'll be happy to know that there's a great selection of homes to choose from. This vibrant Reno neighborhood is a combination of new buildings and remodeled homes built in the 1930s and 1940s. You'll find a variety of architectural styles, from craftsman bungalows to Spanish colonial revival houses as well as modern homes with all the latest amenities. Whatever your taste may be, finding a home that checks all your boxes is easy in Midtown Reno.

The Surrounding Views in Midtown Reno
Midtown Reno is home to some of the most stunning views in the city. From the hustle and bustle of downtown to the tranquility of the river, there is something for everyone to enjoy. The best part about the views in Midtown Reno is that they are always changing. As the seasons come and go, the colors of the leaves and flowers change, giving the area a whole new look.
In the spring, the colorful blossoms of the trees and flowers are a sight to behold. In the summer, the greens of the trees and grass are a refreshing change from the heat of Downtown Reno. And in the fall, the leaves of the trees turn a beautiful golden color before falling to the ground. No matter what time of year it is, there is always a beautiful sight to see in this lovely area.
The Community Feel in Midtown Reno
When most people think of Reno, they envision the bustling casinos and hotels on the strip. However, there is another side to this city that is often overlooked. Midtown Reno is a historic neighborhood that has a unique community feel. The free-spirited atmosphere here sets the tone for the entire city.
Midtown is home to many local businesses, including art galleries, boutique shops, and restaurants. This part of town also hosts several events throughout the year, such as the weekly farmers market and Artown, a month-long celebration of the arts. If you're looking for a taste of the real Reno, then be sure to check out Midtown.

What Is It Really Like To Live in Midtown, Reno?
Midtown Reno, is more than just a district, it's an experience. With a more urban feel than the rest of the city, Midtown is the perfect place to come for the nightlife. The area boasts some of the best bars and clubs in Reno and a variety of restaurants to fit any taste. And if you're looking for something to do during the day, there's no shortage of boutique shops and art galleries to explore.
But Midtown isn't just about nightlife and shopping-- it's also a great place to call home. The area is filled with a sense of community, and great schooling options and its residents are some of the most friendly and welcoming you'll ever meet. Let's take a closer look at what it's really like to live in this exciting area of Reno.
Schools near Midtown, Reno
Finding a great school for your children is important, and you'll be happy to know that there are several excellent options near Midtown Reno. The schools in this area are some of the best in the state, and they offer a variety of programs to meet the needs of every student. Listed below are some of the school's children in Midtown Reno may attend.
Mount Rose Elementary School is a public school located in Reno, Nevada. The school serves students in grades Pk-8 and has a total enrollment of 486 students. The school is located 0.8 miles from Midtown Reno and is committed to creating a community that is inclusive and supportive of all students. The school offers a variety of academic and extracurricular programs, and it is known for its strong commitment to the arts. Mount Rose Elementary School is an excellent choice for families looking for a well-rounded education for their children.
Hunter Lake Elementary School is located in Reno, Nevada, part of the Washoe County School District. The school serves students in grades PK-6 and has a student-to-teacher ratio of 19:1. Hunter Lake Elementary School provides extra support for students through tutoring and other programs. The school also offers a before and after school program. Hunter Lake Elementary School is accredited by the Western Association of Schools and Colleges.
Coral Academy Middle School is located at 1350 East 9th Street and serves students in grades 5-8. The school's mission is to prepare students for success in a global society by providing an advanced STEM education. Coral Academy offers a rigorous curriculum that includes classes such as science, math, and technology.
In addition, the school provides opportunities for students to participate in extracurricular activities such as clubs and sports. As a result, Coral Academy Middle School is an excellent choice for students seeking a challenging and enriching educational experience.
Some of the clubs offered at this school include:
Lego Robotics
Creative Building
Math Counts
Arts and Design for Theatre

The Davidson Academy of Nevada was founded in 2006 to provide gifted students in grades 5-12 with an education that meets their unique needs. The Academy offers a unique curriculum based on the premise that there are no limits to what gifted students can achieve. In addition to rigorous academic coursework, the Academy provides opportunities for students to pursue their passions through extracurricular activities, independent research projects, and internships.
As a result, students are challenged to reach their full potential and develop into well-rounded leaders prepared to make a difference in the world. If you are looking for an educational experience that is truly differentiated, the Davidson Academy of Nevada is the place for you.
Some of the excellent community resources available include:
Areas of Study
Tutoring Center
Counseling Center
Fitness Center
Dining & Entertainment in Midtown Reno
In the heart of Reno, you'll find an entertainment and nightlife scene that's sure to keep you coming back for more. Whether you're looking for a relaxed evening out or a night in town, Midtown Reno has something for everyone. For a low-key evening, enjoy dinner and drinks at one of the many restaurants and bars lining Midtown's streets. Or, if you're feeling adventurous, try your hand at casino gaming or live music at one of the many clubs and venues in the area. No matter what your tastes, you're sure to find an entertaining way to spend your evenings in Midtown Reno.
Dining Options in Midtown Reno
Arario Midtown - Arario Midtown is a warmly-lit Korean-fusion restaurant located in the heart of Reno. The menu features a variety of traditional Korean dishes, as well as some inventive fusion items. The fried chicken is a must-try - it's served with a Korea-style sweet and spicy sauce and comes with a side of pickled radishes. For those looking for something a little lighter, the bibimbap is also excellent. And don't forget to pair your meal with one of the craft beers on tap.
Homegrown Gastropub - Homegrown Gastropub is a local restaurant just minutes from Midtown Reno that specialized in locally sourced cuisine. The restaurant is located in a historic building that has been renovated to provide a warm and inviting atmosphere. The menu features amazing steak and chicken options that are always cooked to perfection. The staff at this establishment are passionate about providing exceptional service to all their guests.
Bricks - Stepping into Bricks Restaurant is like stepping back in time. The elegant setting, with its dark wood paneling and soft lighting, instantly transports you to another era. But the classic American fare with a twist is entirely modern. Whether you're in the mood for a hearty steak, a light salad, or something in between, there's sure to be something on the menu to tempt your taste buds.

Entertainment Options In Midtown Reno
The Emerson Cocktail Lounge - The Emerson Cocktail Lounge is a mid-century-style lounge located in Reno, NV. The lounge features outdoor seating, an array of craft cocktails, and many entertaining events year-round. The Emerson is the ultimate place to unwind after a long day or celebrate a special occasion.
Rum Sugar Lime - Rum Sugar Lime in Reno, NV is a relaxed local spot that attracts a diverse crowd. You'll find some of the best rum and tropical cocktails you have ever had at this spacious and beautifully decorated bar! They have mostly indoor seating with some outdoor seating, depending on the weather. On certain weekdays and weeknights, you will be able to enjoy some live music too!
The Z Bar - The Z Bar is one of the best places to go in Reno, NV for an upbeat hangout. The large patio features stunning firepits that are perfect for a chilly night. The whiskey selection is impressive, and the bartenders are always happy to make recommendations.
Local Shops in Midtown Reno
If you're ever in the mood for a little retail therapy, Midtown Reno is the place to find those charming one-of-a-kind boutiques and shops. From clothing to accessories and more, you'll be sure to find something to suit your taste. Plus, with a variety of local businesses to choose from, you'll be supporting your community while you shop!
Some of the most popular local shops in Midtown Reno include:

Art and Music in Midtown Reno
If you're looking to explore the heartbeat of Midtown Reno, you can find it thumping away in the many art and music venues that line the streets. From world-renowned museums to intimate music parlors, there's something for everyone to enjoy. The Nevada Museum of Art is a great place to start your journey.
With a constantly rotating selection of exhibitions, there's always something new to see. Or, if you're in the mood for some live music, head over to the Mountain Music Parlor. This cozy spot is perfect for enjoying a pint and listening to some of Reno's best up-and-coming musical talent. So whether you're a Reno local or just passing through, be sure to check out the many art and music offerings in Midtown.
Getting Outside near Midtown Reno
There's no doubt about it, Reno is a beautiful place to live. Nestled at the base of the Sierra Nevada mountains, Reno is home to an array of outdoor activities that are perfect for any time of year. From hiking and biking in the summer to skiing and snowboarding in the winter, Reno has something for everyone.
However, if you're looking to get away from the crowds and enjoy some peace and quiet, there are plenty of options for getting outside in Midtown Reno. Just a short drive from downtown, Midtown features several parks, trails, and open spaces that are perfect for a leisurely stroll or an afternoon picnic. And with stunning views of the mountains and the city skyline, Midtown is an excellent place to escape the hustle and bustle of everyday life.
Some of the most visited spots near the area include:
Oxbow Nature Study Area
Idlewild Park
Rancho San Rafael Regional Park
Wingfield Park

So what's it like living in Midtown Reno? Hopefully, this blog has given you a good idea of the vibe here and some of the reasons why people love it. If you're still not sure, come on over for a visit! You can check out all the different homes, enjoy the lively art and music scene, experience the great community feels, take advantage of the amazing outdoor opportunities, and taste all the delicious food and drinks Reno has to offer. You may be surprised at how much this little corner of Reno has to offer. Thanks for reading!
David Tully, located in Reno, Nevada is a detail oriented REAL ESTATE professional that can offer his clients significant experience whether they are first time homebuyer, or experienced seller/buyer relocating to Reno. This experienced real estate professional knows the industry and strives on getting the clients exactly what they are looking for.