Somersett, Reno: 10 Reasons To Love This Master-Planned Golf Community
Posted by David Tully on Tuesday, April 11, 2023 at 4:00:41 AM
By David Tully / April 11, 2023
Comment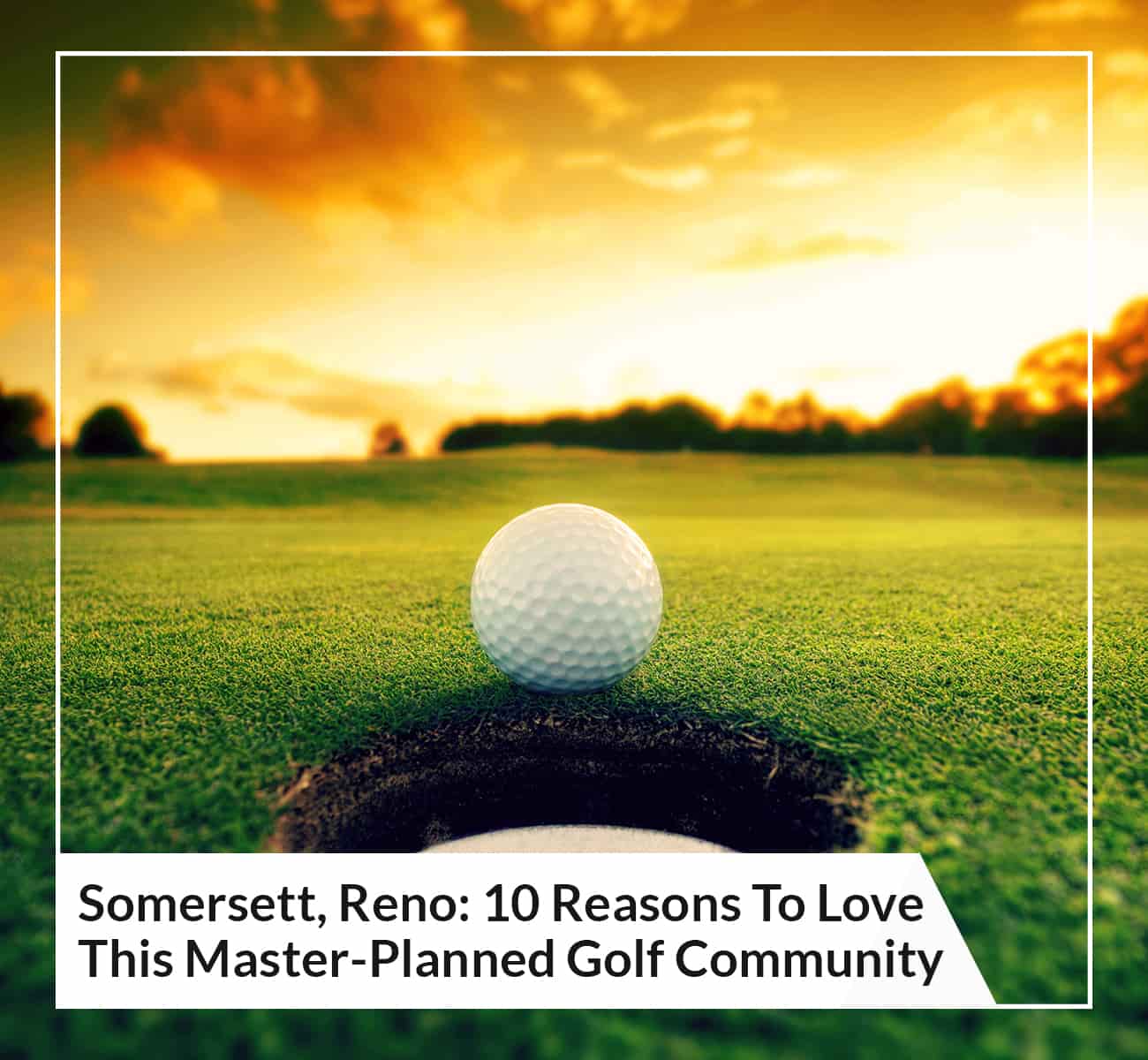 Somersett is a beautiful, thriving neighborhood in Reno, Nevada, and it's the perfect place to call home if you're an avid golfer. The community is built around the beautiful Somersett Golf and Country Club, and residents have access to all of the club's amenities, including its championship golf course.
Living in Somersett, Reno
We listed Somersett as one of the seven best neighborhoods to live in Reno. In addition to being a great place to live, Somersett is also convenient for shopping, dining, and entertainment. And with its close proximity to Lake Tahoe, it's the perfect place to get away from it all and enjoy the beauty of nature. If you're looking for a high-quality lifestyle in a luxurious setting, Somersett is the place for you. Included in this blog are 10 reasons why people love living in this master-planned golf community.
1.) The Homes in Somersett, Reno
The homes in Somersett, Reno are absolutely stunning. Many of the homes have incredible views of the golf course, and the community is filled with beautiful landscaping. The homes are well-built and designed, and the community is filled with amenities that make life convenient and enjoyable.
2.) The Community Feel
Somersett is the perfect place to call home if you're looking for a close-knit community feel. The neighbors are friendly and welcoming, and there's always something going on. Whether you're attending a community event or simply taking a walk around the neighborhood, you'll always feel like you belong in Somersett. There is nothing better than coming home to a community that feels like family.

3.) The Weather
Reno is known for its beautiful weather, and Somersett is no exception. The community enjoys 300 days of sunshine per year, and the average temperature is a comfortable 70 degrees. Whether you're looking to enjoy the outdoors or simply relax in your own backyard, Somersett is the best place to do it.
4.) The Fantastic Amenities
One of the biggest draws to this golf community is the ample amount of things to do and the opportunities that are available to the residents. Listed below are many of the featured amenities that Somersett has to offer.
Sports Court - The sports court is a multi-purpose room that has basketball nets, a large stage, and a pull-down screen for movies.
The Grille - Located at the Golf and Country Club, The Grille is a great place to enjoy lunch or dinner with friends with breathtaking views.
Cardio/Weight Studio - This state-of-the-art facility offers top-of-the-line equipment for a great workout including treadmills, ellipticals, free weights, and more.
Pool - The Somersett community pools are a great place to cool off and have some fun. The 98-foot water slide is a popular attraction, and there are also interactive pool toys for the kids. The resort-style pool is well-maintained and offers stunning views of the Sierra Nevada mountains.
Canyon Nine - This par-3 golf course is a great place to work on your game or simply enjoy a round with friends and family.

5.) The Proximity to Lake Tahoe
Somersett is only a short drive away from one of the most beautiful places on earth - Lake Tahoe. This massive lake is perfect for swimming, boating, fishing, and hiking, and the views are simply incredible. Many residents of the Somersett community enjoy spending their weekends at Lake Tahoe, and there's no doubt that you will too.
6.) The View
Another one of the reasons that people love living in Somersett is because of the incredible views. Whether you're looking at the golf course, the mountains, or simply your own backyard, there's no doubt that you'll be impressed with the scenery. The views are truly breathtaking, and they are one of the many things that make this community so special.
7.) The Convenience
Somersett is a master-planned community, which means that everything you need is right at your fingertips. There are grocery stores, restaurants, shops, and more all within the community, which makes life very convenient for residents. Included below are some of the nearest grocery stores and restaurants to the Somersett community.
Grocery Stores:
Restaurants:
Peavine Taphouse Eats and Beats
Sakana
The Grille at Somersett

8.) Golfing in Somersett, Reno
The Somersett Golf and Country Club is the ultimate paradise for all the golf lovers out there. Featuring a Tom Kite designed course, this 18-hole, par 72 course is one of the best places to play golf in Reno. The course is challenging yet fun, and it offers stunning views of the Sierra Nevada mountains. In addition to the Country Club, members who may not be residents have the opportunity to purchase a membership to the Club at Town Center.
Other golf courses residents of the area may visit as well include:
9.) Parks and Trails near Somersett, Reno
With over 2,400 acres filled with beautiful landscapes and ample opportunity for outdoor recreation, there's no wonder why Somersett is one of the most popular places to live in Reno. The community has over 20 miles of walking and biking trails, and there are also numerous parks located throughout the area.
Some of the most popular parks near Somersett include:
Somersett West Park
Somersett West Park is a great place to take in the sights of Reno. The park has sweeping views of the city, and the play structure is a great place for kids to burn off some energy. There's also plenty of space for dogs to roam, and the park is well-maintained. If you're looking for a great place to spend a day in Reno, Somersett West Park is definitely worth checking out!
Tom Cooke Trail
Located just 3.4 miles from the Somersett community, the Tom Cooke Trail is a great place to take a hike or go for a bike ride. The trail is 4.5 miles long and offers stunning views of the Sierra Nevada mountains.

Sierra Vista Park
Sierra Vista Park is a mountain bike and hiking trail paradise located in northwest Reno. The park has over 30 miles of trails that wind through the beautiful desert landscape. Whether you're looking for an easy stroll or a challenging hike, Sierra Vista Park has something for everyone.
Mayberry Park
Mayberry Park is a beautiful day-use facility located in Reno, Nevada. The park features a paved bike path, picnic sites, fishing access, and beautiful views of the Truckee River. Mayberry Park is the perfect place to spend a day with friends or family.
10.) A Bright Future for Somersett, Reno
Looking to the future, it is clear that Somersett and Reno will continue to grow and prosper. The area has a lot to offer residents and businesses alike, and there is no doubt that it will continue to be a desirable place to live and work. With its convenient location and great amenities, Somersett is poised to become one of the most sought-after communities in the Reno area. And as more people discover all that the city has to offer, Reno is sure to continue its upward trend.
As you can see, there are many reasons why Somersett is a great place to live. If you're considering making a move to the area, or if you're just curious about what it has to offer, be sure to check out Somersett for yourself. You won't be disappointed!
David Tully, located in Reno, Nevada is a detail oriented REAL ESTATE professional that can offer his clients significant experience whether they are first time homebuyer, or experienced seller/buyer relocating to Reno. This experienced real estate professional knows the industry and strives on getting the clients exactly what they are looking for.