Moving To & Living In Reno NV: The Ultimate Guide
Posted by David Tully on Monday, May 8, 2023 at 2:37:46 AM
By David Tully / May 8, 2023
Comment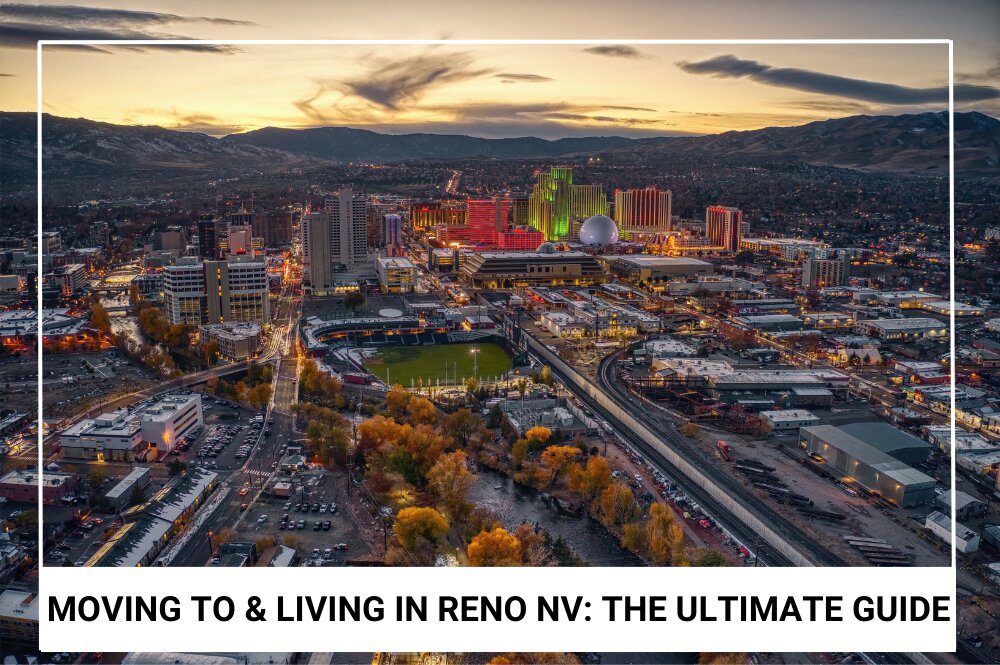 Are you considering a move? A place that offers a balance of rich urban amenities and natural beauty? Then, Reno could be the perfect destination.
Moving to Reno, NV can open up a world of opportunities for a dynamic and fulfilling lifestyle. Reno has everything you're searching for, whether it is a change of scenery, a strong job market, or an active outdoor lifestyle. Living in Reno, Nevada means immersing yourself in a city that seamlessly mixes the charm of the Old West with the thrill of a modern metropolis.
The city is also known for being a flourishing tech and start-up scene, making it one of the largest business hubs in America. With no corporate or personal income taxes, it's no wonder why Reno is a coveted destination for people looking to start a new life.
In this ultimate guide, I will explore everything you need to know about moving to and living in Reno, the "Biggest little city in the world." Together, let's explore the reasons why Reno, Nevada, should be your new residence. From the best neighborhoods to the top restaurants and attractions, I've got you covered. So sit back, relax, and let me help you navigate the ins and outs of living in Reno.
The History Of Reno, NV
A vibrant history shapes the remarkable city of Reno. There are fascinating tales and transformative events along the way. Reno's history traces back to the mid-19th century. At that time, it emerged as a vital trading hub along the Truckee River. Reno, founded in 1868 as a railroad town, quickly became a vital stop on the Central Pacific Railroad. The completion of the railroad fueled economic growth by opening up opportunities on the growing western frontier.
The 1930s marked a turning point in Reno's history with the legalization of gambling. The city soon became a hotspot for casinos. Being a premier destination for gaming and nightlife, it attracts many entertainers. In the early to mid-20th century, Reno gained notoriety as the "Divorce Capital of the World." It became a place to get quick and easy divorces. These lenient divorce laws drew individuals from across the country.
In the latter half of the 20th century, Reno witnessed a transformation into a cultural and entertainment hub. The city became a favorite destination for extravagant shows. Performers like Frank Sinatra, Elvis Presley, and Liberace were featured in those shows. As the entertainment industry flourished, Reno's reputation as a premier entertainment center solidified.
In recent decades, Reno has undergone significant urban development. Reno's downtown revitalization efforts, including the Riverwalk District and the iconic Reno Arch, have transformed the city into a vibrant urban destination.
Where Is Reno, Nevada Located?
Reno is located in the western part of the United States. It is situated in the western region of the state of Nevada, near the eastern slope of the Sierra Nevada mountain range. Reno is approximately 22 miles northeast of Lake Tahoe and about 200 miles east of San Francisco, California.
What County Is Reno, NV, In?
Reno, NV is in Washoe County. This is in the western part of Nevada. The county encompasses the city of Reno along with other communities.
What Are The Cities Around Reno, Nevada
Some cities around Reno include Sparks, Carson City, Fernley, and Fallon. As a result, visitors and residents can explore those cities at a reasonable distance.
Is Reno Northern or Southern Nevada?
Reno is situated in Northern Nevada. This region is renowned for its distinct geography, outdoor recreational opportunities, and proximity to the Sierra Nevada mountain range.
What Cities Are In Northern Nevada?
Northern Nevada is home to many cities such as Reno, Sparks, Carson City, Elko, Winnemucca, and Fallon. Each of these cities offers unique attractions for both residents and visitors.
What Is The Altitude of Reno, Nevada?
Reno has an altitude of approximately 4,500 feet (1,373 meters) above sea level. This altitude contributes to a comfortable environment and breathtaking views of the surroundings.
How Far Is Nevada City From Reno?
Nevada City, located in California, is situated approximately 190 miles (306 kilometers) southwest of Reno. This manageable distance allows the residents of Reno to take a day trip or weekend getaway.
How Far Away Is Reno From Las Vegas?
Reno is situated about 440 miles (708 kilometers) northwest of Las Vegas. Hopefully, your confidence will increase when driving from Reno to Las Vegas, now that you know how many miles from Reno to Las Vegas is.
How Far Is Lake Tahoe From Reno, Nevada?
Lake Tahoe is located approximately 35 miles (56 kilometers) southwest of Reno, Nevada. Tourists can easily make a day trip.
How Far Is Reno From California?
Reno is 10 miles (16 kilometers) away from the California state line. Hence, it is a convenient location for those interested in exploring both Nevada and California.
How Far Is Reno, Nevada, From San Francisco?
The distance between Reno and San Francisco is approximately 218 miles (351 kilometers). As a result, residents of Reno can take a relatively straightforward drive to travel to San Francisco. Otherwise, they also have the option of convenient air travel between the two cities.
Living In Reno, Nevada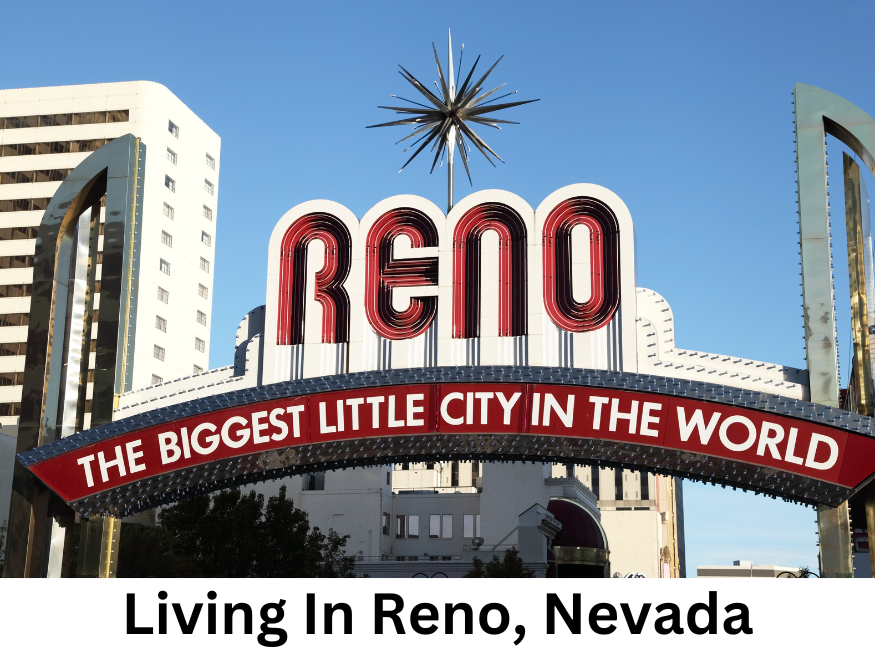 Reno, also known as the Biggest Little City in the World, is a dynamic city that attracts tourists and locals alike. While the city is renowned for its gaming tourism industry, there's much more to Reno than just slot machines and poker tables. The city is an epicenter for arts, culture, foodies, and more. With a population of approximately 266,511 people, Reno boasts a thriving and diverse community.
Temperatures in Reno may vary widely throughout the year, ranging anywhere from 23 degrees Fahrenheit to 90 degrees Fahrenheit. Despite the fluctuating temperatures, residents of Reno love their city, and it's easy to see why. From the stunning natural beauty of the surrounding countryside to the vibrant and welcoming atmosphere of the downtown area, Reno truly has something to offer you.
What Are The Best Places To Live In Reno, Nevada
Damonte Ranch, Double Diamond, Northwest Reno, Caughlin Ranch, and Somersett are some of the best places to live in Reno. The rent in these areas varies depending on the type of property and demand. Generally, the rent won't be higher than $2000 a month.
Popular Reno Neighborhoods To Move Into
Reno neighborhoods that have been attracting homebuyers from all over include:
Damonte Ranch: Damonte Ranch, located at the base of the Sierra Nevada Mountains, is a master-planned community in Reno, NV that has been reinvented to provide a unique experience of the city's way of life. With an average home value of around $650,000, Damonte Ranch offers a home for everyone while providing a stunning backdrop that will leave you in awe. Living in this wonderful community means enjoying the perfect balance of modern city amenities and natural beauty.
Double Diamond: This neighborhood is also in the south Reno area. The amenities offered in Damonte Ranch can also be enjoyed in this neighborhood. It is very close to popular schools, grocery stores, pizza shops, and cafes. Moreover, there are a handful of restaurants nearby.
Caughlin Ranch: Caughlin Ranch has been captivating hearts since 1984 and remains one of Reno's top master-planned communities, located just off Highway 659. The tranquil and relaxed suburban vibe throughout Caughlin Ranch is ideal for those who long for a peaceful retreat from the hustle and bustle of city life. The beauty of this community is exemplified by its towering trees and perfectly positioned flowers that adorn the area. With 30 subdivisions, Caughlin Ranch offers a variety of home prices starting at around $650K and going up to 4 million dollars, catering to every budget and lifestyle.
Arrowcreek: The Arrowcreek neighborhood is an exquisite 3,200-acre master-planned community situated in the Southwest part of Reno. With its prime location, just 13 minutes away from downtown, Arrowcreek presents a calming environment that's still close enough to all the excitement. This captivating community boasts generous green spaces and not one but two championship golf courses, making it a golfer's paradise. Additionally, Arrowcreek's gorgeous community consists of three to five single-family homes, with prices ranging between $800K to $3.5M.
Estates at Mt. Rose: The Estates at Mt. Rose is undeniably one of the most visually stunning neighborhoods in Reno, boasting luxury homes that are a sight to behold. With sprawling lots and property values of around $1.4M, this exclusive community is a symbol of opulence and extravagance. Not only does it deliver an unparalleled living experience, but it's also conveniently located near a plethora of shops, restaurants, and exciting downtown Reno entertainment, making it one of the top choices for those who want the best of all possible worlds.
Best Suburbs To Live In If You Are Moving To Reno, Nevada
Just like the best neighborhoods in Reno, I have also listed the best suburbs in this area. So, let's take a look.
Sparks: It is located adjacent to Reno. It is a charming downtown area with a range of housing options. Moreover, you can enjoy family-friendly amenities like parks and recreational facilities.
Spanish Springs: This suburb is situated northeast of Reno. Spanish Springs boasts a suburban feel with spacious homes and excellent schools. What's more, it has close proximity to outdoor activities like hiking and golfing.
Northwest Reno: This area offers a mix of suburban and rural living. Northwest Reno has large lots and enjoy amazing mountain views. Plus, it offers convenient access to shopping centers and schools.
What Is The Richest Part Of Reno?
Montreux area is the richest part of Reno. Most natives consider the gated community of Montreux Golf and Country Club one of the wealthiest parts of Reno. The area is known for its luxury homes, affluent residents, and beautiful surroundings. The club offers 3 types of memberships. They are Golf Membership, Sports Membership, and Clubhouse Membership.
What Are The Best Places To Visit In Reno?
The National Automobile Museum, The Nevada Museum of Art, and The Riverwalk District are the top 3 places to visit in Reno, NV. It also offers an exciting nightlife with its numerous casinos, bars, and entertainment venues. Visitors can indulge in fun games, live performances, and delicious dining options, making for a memorable experience. Furthermore, the stunning natural beauty of Lake Tahoe, located just a short drive from Reno, provides outdoor enthusiasts with an array of activities such as hiking, skiing, and boating, adding to the city's allure as a must-visit destination.
What Are The Best Parks In Reno?
Wingfield Park, Idlewild Park and Rancho San Rafael Park are the best parks in Reno, NV. Local residents can relax, play sports, or enjoy a peaceful walk in these parks. It provides an exceptional outdoor experience for visitors of all ages.
Things To Know If You Are Planning To Move To Reno, NV
If you are considering moving to Reno, Nevada, you are in for a treat. There is no doubt that Reno offers a unique blend of urban amenities and natural beauty. You will be mesmerized by its picturesque landscapes and vibrant arts scene. However, before you pack your bags and get ready to settle in Reno, there are a few essential things to know.
You should become familiar with the weather patterns, cost of living, outdoor recreation options, cultural scene, educational institutions, and healthcare resources of Reno. Plus, it is good to know whether you can immerse yourself in the thriving community of Reno. Then you will be able to settle easily into your new life in Reno.
On that note, I have decided to help you by answering a few essential questions about relocating to Reno. So, let's begin...
Is Reno A Good Place To Live?
Of course, Reno is widely regarded as a desirable place to live. People consider living in Reno because of its combination of natural beauty, outdoor recreational opportunities, and a growing job market. It also offers a lower cost of living compared to other major cities. To top it off, many residents appreciate the sense of community and cultural attractions.
Is Reno, Nevada Safe For Living?
Yes, Reno has a reputation for being a safe city. The city has implemented effective measures to ensure the safety of its residents. Plus, crime rates have been declining in recent years.
What Is Reno Known For?
Reno is well known for its casinos and entertainment venues. Reno became a popular destination for outdoor enthusiasts for its proximity to the Sierra Nevada Mountains and Lake Tahoe. Speaking of other aspects, the city hosts a variety of annual events. For instance, the Great Reno Balloon Race, the Reno Rodeo, and the Hot August Nights classic car festival are great events throughout the year.
What Is The Population Of Reno, Nevada?
As of 2021, the estimated population of Reno, Nevada, is around 268,851. The population has been continuously rising from 1990 to 2020. It also demonstrates that the population in surrounding cities has not increased compared to Reno.
Why Is Reno So Expensive?
In recent years, Reno has experienced significant growth and development. Factors such as increased demand, limited housing inventory, and a growing job market have put upward pressure on Reno's housing prices. On average, you have to spend around $526,062 to buy a home in Reno. However, the cost of living here is still relatively lower than in the major cities of the United States.
Is Reno A Family-Friendly City?
Reno is considered a family-friendly city as it offers a variety of amenities and activities suitable for families. In addition, the city offers excellent schools, parks, and recreational facilities for children. On top of that, it organizes family-oriented events and festivals throughout the year.
Is Reno Kid Friendly?
Yes, Reno is known for being kid-friendly. There are numerous family-friendly attractions and activities for kids. For instance, you can take your kids to the Terry Lee Wells Nevada Discovery Museum, Animal Ark Wildlife Sanctuary, and Wild Island Family Adventure Park.
Is Reno A Good Place To Retire?
Reno has become an attractive destination for retirees due to its outdoor recreational opportunities and favorable tax environment. Many age-restricted communities are available in Reno. For instance, Sierra Canyon by Del Webb is a planned community in Somerset. Its clubhouse, called the Aspen Lodge, offers top-notch amenities for retirees and elderly citizens. Other great communities in Reno include Sierra Canyon Clubhouse, Regency at Damonte Ranch, and Regency at Caramella Ranch. Additionally, the proximity to Lake Tahoe contributes to Reno's appeal as a retirement destination.
How Big Is Reno, NV?
Reno has an estimated land area of around 111.7 square miles (289.3 square kilometers). It is the fourth-most populous city in Nevada and serves as the county seat of Washoe County.
Is Reno A Desert?
Reno does experience some desert-like characteristics. It is located in the high desert region of Nevada. At the same time, its proximity to the Sierra Nevada Mountains creates a unique blend of desert and mountainous environments.
What Is The Weather Like In Reno, Nevada Year Round?
Reno experiences a semi-arid climate with four distinct seasons. In Summer, average temperatures range from 68 °F to 104 °F. Winters are generally mild, with occasional snowfall. During this time, temperatures range from 32 °F to 50 °F. Spring and Fall offer pleasant temperatures, with mild to warm days and cool nights.
How Cold Does It Get In Reno?
During the winter, temperatures in Reno can occasionally drop below freezing. Overnight temperatures may drop to an average low of -24.8 °F to -30.2 °F. However, extreme cold is not a common occurrence in Reno.
Why Should You Move To Reno, Nevada?
There are plenty of reasons to move to Reno. I can go on and on, it will never stop. However, I really think, the following 5 reasons stand out among all,
A Lot Of Job Opportunities: In Reno, you won't feel the scarcity of jobs. Apart from casinos, Reno has a diverse job market. Many logistics, manufacturing, and warehouse companies are established in Reno. All these offer a lot more job options.
A Four-Seasoned Area: You will experience Summer, Winter, Spring, and Fall in Reno. This is absolutely amazing since many places in the US offer fewer seasons. This allows you to enjoy various outdoor activities. It is very pleasant to take a walk near Lake Tahoe or Sand Harbor.
Affordable Cost of Living: Compared to major American cities, Reno has a relatively lower cost of living. Housing costs, utilities, and transportation expenses are generally more affordable here. As a result, residents can enjoy a comfortable lifestyle without breaking the bank.
Easy To Travel: In Reno, it is very convenient to fly to San Diego, San Francisco, or Las Vegas. It won't take much time to drive to these places. For example, it will take 2 to 2.5 hours to drive to Sacramento from Reno. You can even venture into the vast wilderness of the Black Rock Desert.
Better Quality Of Life: Perhaps, this is the most important reason to live in Reno. While it may not be as standard as living in New York, California, or Las Vegas, you can do plenty of things that are not available in those places. For instance, you can go hiking on Galena Creek or Hunter Creek Trail. Reno also has a close-knit and friendly community that embraces newcomers.
Why You Should Not Move To Reno, Nevada?
While Reno has many appealing qualities, there are factors that might make it less suitable for certain individuals. Here are a few reasons why moving to Reno may not be the best fit for everyone,
Home Value: The median home price in Reno is around $550K. Just to give you an idea, the median home value across the US is $430K. So, you have to pay a bit more to buy a house in Reno. Moreover, you may have to deal with low inventory and high-interest rates.
Homeless People: It is sad that there are homeless people in Reno. As of 2022, around 1600 people were living in Reno without homes.
Gambling: If you are used to gambling or if you have a problem with it, you should probably avoid Reno. Although it is not like Las Vegas, there are slot machines in gas stations and grocery stores. A lot of people gamble in these areas.
Cold Weather: Reno experiences occasional cold winters with snowfall. Reno may pose challenges or discomfort if you prefer a more moderate climate. However, winters are not extreme in Reno but rather mild.
High Elevation: Reno has a higher elevation, right around 4,500 feet in the northwest part. So, if you are coming from an area with a lower elevation (like coastal areas), you may face some trouble during outdoor activities.
Public Education: As a whole, the quality of public education in Nevada is not that great. Public schools in Nevada, including elementary, middle, and high school rank around 48 to 49 globally. With that said, the universities offer excellent engineering programs along with medical programs.
Higher Rents: One of the major downsides to moving to Reno is the higher cost of rent. Typically, you will have to pay around $2300 to stay in a common single-family home in Reno. For a luxury apartment, it can cost from $1500 to $1800.
The Heat In Reno: Last but not least, the hot Summer in Reno can be a problem for you. Typically, the temperature is in the high 80s to 90s in the Summer. Sometimes, it can jump to 100s or more. However, Summers are much more enjoyable compared to Las Vegas.
Best Schools And Universities In Reno, Nevada
Education is one of those things that has the power to pull potential Reno residents in, and the city doesn't disappoint. From the distinguished University of Nevada-Reno to various public schools operated by the Washoe County School District, you can be confident that your children will receive a top-notch education.
The Best Elementary Schools in Reno
Okay, I will start with the best elementary schools in Reno. Compared to other educational institutes, Reno has a lot more elementary schools. This makes it an ideal place for families looking to enroll their children in good schools:
Roy Gomm Elementary: It is the second-highest-rated school in Reno. Most newcomers like to buy houses near this school. The school is located at 4000 Mayberry Drive.
Caughlin Ranch Elementary: Let's just say it is a popular school in a popular community. The school is located in the middle of the Caughlin Ranch. In 2022, there were around 570 students. Currently, this number has definitely increased.
Hunsberger Elementary: Well, if you know a little about Reno, then it should not come as a surprise. The school is located near a popular neighborhood called Arrow Creek. There are more than 600 students enrolled in this school.
Reno has more elementary schools, which you can find by watching this video,
Best Middle Schools in Reno
Reno offers outstanding middle schools for students transitioning from elementary to high school. Here are two notable middle schools in Reno:
B.D. Billinghurst Middle School: This school is known for its rigorous academic programs and a strong emphasis on extracurricular activities. The location of this school is 6685 Chesterfield Lane. It encourages students' intellectual growth by offering a well-balanced education.
Swope Middle School: Almost all the teachers in this school are dedicated. With a comprehensive curriculum, they provide students with a solid foundation for success. The school is at 901 Keele Dr #1001, Reno.
Best High Schools in Reno
Reno is home to several high schools. Students will have opportunities for academic achievement and extracurricular involvement in these schools. Here are some of the best high schools in Reno:
Reno High School: This school prepares students for higher education with essential life skills. The school offers strong academic programs and diverse extracurricular activities. It is at 395 Booth St, Reno.
Galena High School: It is in the southwest part of Reno. This school offers a challenging curriculum and a supportive learning environment. The school will do everything for solid college preparation. Also, it provides a range of advanced placement courses.
Best Universities and Colleges in Reno
Recently, Reno has gained a reputation for having higher education institutions. Some of the best universities and colleges in Reno include:
University of Nevada, Reno: This university was founded in 1874. It is renowned for its comprehensive academic programs, cutting-edge research opportunities, and vibrant campus life. It is considered the flagship institution of the Nevada System of Higher Education.
Truckee Meadows Community College: This community college has campuses in 5 spots. It offers a wide range of associate degrees and certificate programs. Moreover, there are affordable and accessible higher education options available for students.
Top Career Options In Reno, Nevada
Reno is filled with job opportunities. You won't have to worry about finding a suitable job here. You can work in a casino, which is pretty common. The pay scale is also good for living. The city is experiencing significant economic growth. Large companies are merging in Reno. Apart from that, you can also work in restaurants or grocery stores.
What Is The Main Industry In Reno?
There have been significant contributions from various sectors. As a result, the main industry in Reno has diversified over the past decade. Reno is particularly known for advanced manufacturing, IT companies, data centers, and software development firms.
Reno has become a hub for aerospace, automotive, electronics, and machinery production. And you may already know that Reno has a long-standing history in the gambling and entertainment industries. There are numerous casinos, resorts, and entertainment venues in the area.
What Are The Big Companies In Reno, NV?
Some of the major companies in Reno, Nevada, include Tesla, Microsoft, Amazon, International Game Technology (IGT), and Polaris.
What Are The Best Places To Work In Reno?
Remember, your dream place to work depends on various factors such as employee satisfaction, benefits, and growth opportunities. Luckily, there are many companies that can satisfy all these needs. Here are some of the best places to work in Reno, Nevada,
Tesla
Microsoft
Renown Health
University of Nevada, Reno
Sierra Nevada Corporation
Switch
International Game Technology (IGT)
Greater Nevada Credit Union
Eldorado Resorts (now part of Caesars Entertainment)
NV Energy
What Is The Median Salary in Reno, Nevada?
As of real-time data, the median household income in Reno, Nevada, is around $50,963 per year. However, individual salaries can vary significantly depending on the occupation, industry, education level, and experience. I have made the following table with the help of ZipRecruiter to provide more insights on the salary,
| | | |
| --- | --- | --- |
| Details | Annual Salary | Hourly Wage |
| Top Earners | $79,651 | $38 |
| 75th Percentile | $64,375 | $31 |
| Average | $50,963 | $25 |
| 25th Percentile | $37,551 | $18 |
How Much Income Tax Will I Pay in Nevada?
Nevada is one of the few states in the US with no income tax. Hence, this can be a significant financial advantage for residents. However, there are other taxes, such as sales tax and property tax.
The state sales tax in Nevada is 6.85%. At maximum, almost 1.53% of the local sales tax rate may apply. On the State Business Tax Climate Index in 2023, Nevada's tax structure is ranked seventh overall.
Cost Of Living In Reno, Nevada
Now, it is time to discuss a crucial part of living in Reno, which is the cost. Just so you know, the cost of living is 5% higher in Reno than it is nationwide. I will go through almost all the relevant expenses. So, it will give you a better idea of the costs in Reno.
Housing Rent is a must to consider. The cost of housing has been rising due to increased demand. However, it is still more affordable compared to cities like San Francisco or Los Angeles. Rental prices vary depending on the size, location, and condition of the property. On average, you can expect to pay from $1,700 to $2,000 per month for rent.
Gas Prices is something that can make you laugh and cry at the same time. For regular gas in Reno, you have to spend around $4.69 to $4.75. For premium gas, this price will rise to $5.15. On average, gas prices in Reno are pretty expensive. Other utility costs, including electricity and water, are typically reasonable.
Home Prices: As I said earlier, the median home price in Reno can range from $550K to $575K. Considering all socioeconomic levels, this is not cheap. On top of that, the increased interest rates can cause issues when buying a home in Reno.
Eating Out/Drinking: Overall, I think it is not that expensive to eat out in Reno. On average, it will cost you $12 to $15 per meal. There are more expensive places, though. You can expect to pay from $30 to $50 per meal at expensive restaurants or steakhouses.
Daycare: Unfortunately, daycare is expensive in almost any place in America. It will cost you from $900 to $1600 for daycare in Reno. However, it is not more expensive than other parts of America. The real huddle is finding a good daycare, which won't be a problem in Reno.
Food and Groceries: The national food price index was 133.08 as of May 2023. In Reno, the price was around 100.23 in 2022. I guess the price is somewhere close to 140 now. So, you have to pay more for food and groceries in Reno. However, it is fair if you consider other expensive cities.
Reno, NV Real Estate
Are you yearning for a fresh start in a bustling metropolis teeming with possibilities for enterprising millennials and ambitious professionals? Your search ends here in Reno, NV! This sizzling real estate market caters to all needs and desires, from capacious single-family homes tailored for young families to exquisite master-planned communities crafted for those who crave the finer things in life.
Moreover, the educational landscape in Reno is unparalleled. With an array of academic options at your disposal, you can be confident that your little ones will receive a first-rate education. And the best part? The median home value in Reno sits around $500K, which means that you can easily find the property of your dreams within your budget.
Should You Buy A New House Or Old House To Live In Reno?
Ultimately, it depends on your preferences, budget, and individual circumstances. Here are some factors to consider when making a decision between buying a new house or an old house in Reno:
| | | |
| --- | --- | --- |
| Factors to Consider | New House | Old House |
| Property Condition | Excellent condition, brand new | Condition may vary, potential repairs |
| Customization Options | More customization possibilities | Limited customization options |
| Energy Efficiency | Higher energy efficiency standards | May require upgrades for efficiency |
| Maintenance and Repairs | Fewer immediate repairs required | Potential for more maintenance |
| Modern Features | Often includes the latest amenities | May lack modern features |
| Historical Charm | Lacks historical character | May have unique architectural details |
| Neighborhood Development | Potential for ongoing development | Established community |
| Cost | Generally higher price | Lower than a new home |
| Resale Value | Initial higher value | Initial higher value |
| Warranty | The biggest pros of buying a new house in Reno | No warranty unless specified |
Who Is The Best Realtor In Reno, NV
David Tully is one of the best realtors in Reno, NV. He has established himself as the go-to Reno housing market expert. His unparalleled professionalism, extensive knowledge, and unwavering dedication to client satisfaction set him apart, making him the top choice for buyers and sellers in Reno, NV.
I just vouched for myself :)
However, it is subjective to determine the "best" realtor. Before finally hiring one, you should conduct further research, read reviews, and interview multiple realtors.
Things to Do in Reno, NV
It's no secret that Reno holds many treasures for visitors and locals alike. From the moment you first set foot in this vibrant city, you'll be swept up in a contagious energy that's hard to resist. The natural beauty of the area draws crowds year-round, with hiking, biking, and skiing all popular pastimes. But there's so much more to experience as well- from unique museums that showcase art, history, and culture to an exciting dining scene that's second to none.
Not to mention the lively entertainment options, including casinos, music festivals, and theatrical performances that keep the city buzzing day and night. Whether you're seeking an adrenaline rush or a serene escape, Reno features an endless array of activities to suit every mood and taste.
Come and discover for yourself why Reno is known as "The Biggest Little City in the World."
The Great Outdoors
Reno's breathtaking natural beauty is one of the most alluring aspects of the city. With its majestic mountains, picturesque lakes and rivers, and wide-open spaces, it's hard to resist exploring the great outdoors.
Some of the most beloved outdoor destinations in Reno, NV include:
- Reno Riverwalk District
- Mt. Rose Ski Resort
- Rancho San Rafael Regional Park
- Virginia Lake Park
Family-Friendly Activities
Making the move to any new city can be daunting, especially if you have kids. Luckily, Reno is a family-friendly paradise with plenty of activities to keep everyone entertained.
Here are some of the top family-friendly activities to enjoy in Reno:
National Automobile Museum - With over 200 cars on display, the National Automobile Museum is a must-visit for those looking to take a trip back in time.
Animal Ark - Animal Ark is an incredible wildlife sanctuary dedicated to the preservation of native species. Here you can view and learn about some of the area's most fascinating creatures.
Nevada Museum of Art - Embrace the beauty of art at the Nevada Museum of Art, an institution dedicated to displaying and preserving contemporary artwork.
Greater Nevada Field - Home to the Triple-A Reno Acres baseball team, Greater Nevada Field is a great spot to take the family out for some good old-fashioned fun.
Terry Lee Wells Nevada Discovery Museum - The Terry Lee Wells Nevada Discovery Museum is a great spot for kids to explore science, nature, and art in an interactive environment.
Nightlife & Entertainment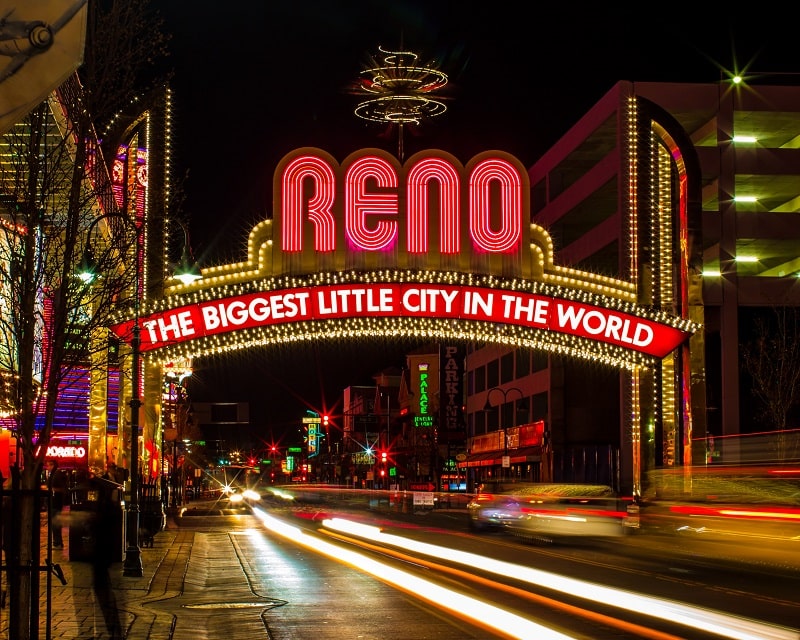 For seeking more age-appropriate activities, Reno offers plenty of nightlife and entertainment options. With dozens of casinos, cabarets, pubs, and nightclubs dotting the cityscape, it is a known fact that Reno truly knows how to keep the fun going.
To truly experience Reno in all its glory, be sure to check out some of these essential nightlife and entertainment spots:
- Atlantis Casino
- Peppermill Casino
- Grand Sierra Resort
- Lex Nightclub
Living In Reno, Nevada: Pros And Cons
There is always some nitty-gritty to living in a new place. If Reno is a new place for you to live, you need to think about the pros and cons of living here.
Pros of Living in Reno
Outdoor Recreation
Low Cost of Living
Tax Benefits
Thriving Arts and Culture
Proximity to Lake Tahoe
Four Distinct Seasons
No State Income Tax
Affordable Housing Options
Vibrant Downtown Area
Accessible Airport (Reno Tahoe International Airport is only 6 km)
Cons of Living in Reno
Limited job market diversity
Hot summers and cold winters
Occasional wildfires and droughts
Growing population and traffic
Limited public transportation
High desert climate may not suit everyone
Occasional earthquakes
Limited healthcare facilities in some areas
Air quality affected by wildfires
Living in Reno, NV sets a whole new world of opportunity before you, so get ready to explore it all. With the proper guidance and knowledge of the area, you will be on the fast track to settling into your new home. Hopefully, this ultimate guide has ignited your enthusiasm for the Reno, NV lifestyle and all it has to offer.
David Tully, located in Reno, Nevada is a detail oriented REAL ESTATE professional that can offer his clients significant experience whether they are first time homebuyer, or experienced seller/buyer relocating to Reno. This experienced real estate professional knows the industry and strives on getting the clients exactly what they are looking for.