The Ultimate Guide To Living In 89521, Reno NV
Posted by David Tully on Monday, April 10, 2023 at 7:50:16 PM
By David Tully / April 10, 2023
Comment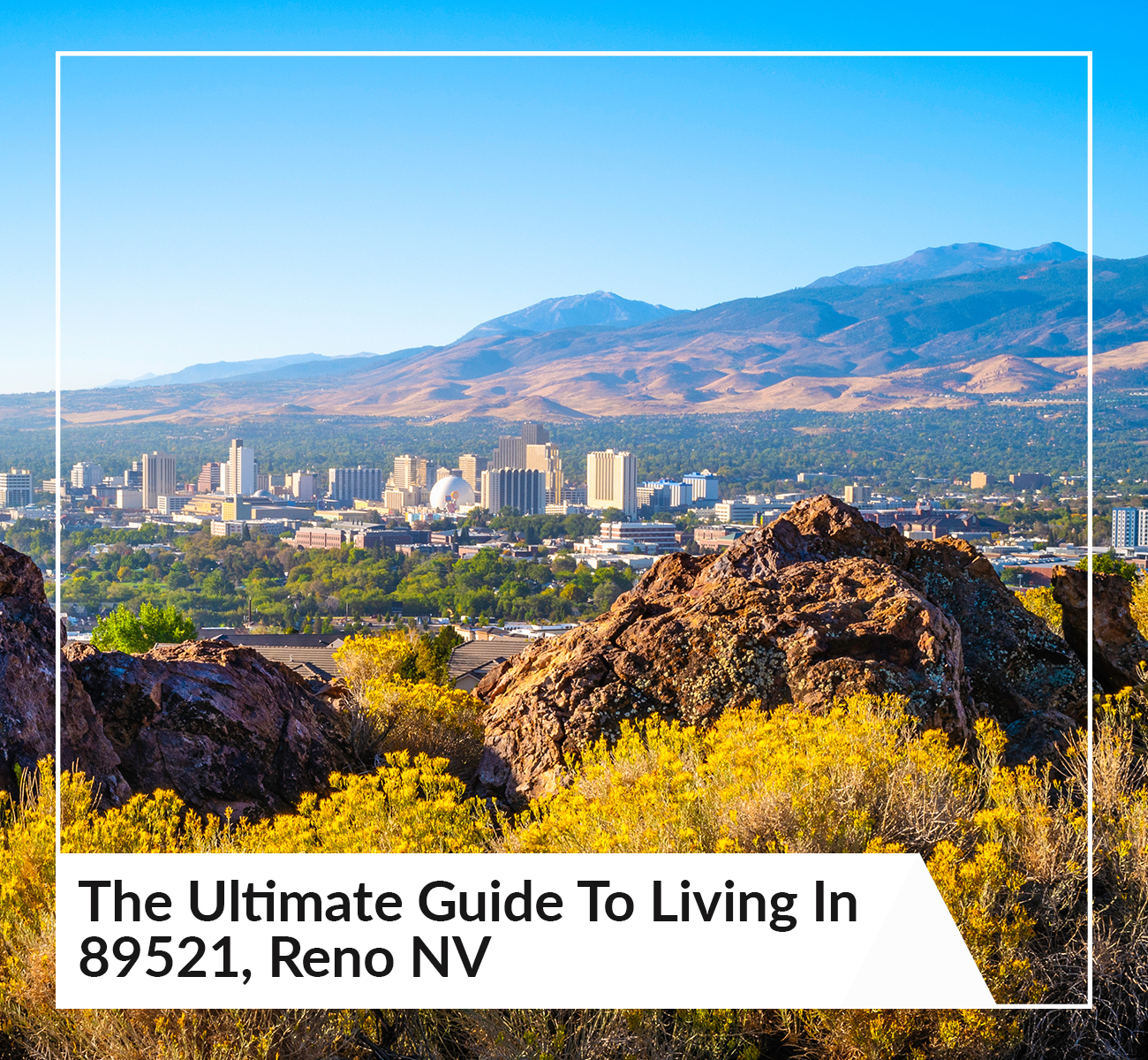 Reno, NV, has always been a hot spot for tourists, but many people have started to move there with their families for its fantastic new homes. Living in Reno offers an incredible lifestyle, and the residents there love all of the great amenities the lively city has to offer. If you have ever thought about what it's like to live in this excellent zip code, keep reading to see the ultimate guide to living in 89521, Revo, NV.
What is the 89521 Zip Code Like?
This area is located just south of the downtown section of Reno, so you're about 20 minutes away from all of the action without living in the metro area. Reno has a population of about 260,000 residents, but only 10% live in this area. Most of the area comprises residential neighborhoods and many different businesses, along with impressive mountains and incredible nature.
How Far Away is Zip Code 89521 From Downtown Reno?
Many people have started to look for smaller cities to buy homes instead of paying the extra money it typically costs in larger cities. Commuting to work is much easier on the wallet if you are looking to save for the future, so it's great when you can find a city that is nice and close. The 89521 zip code is about 20 minutes away from downtown Reno, so you don't have to worry about a long drive to work.

What Are the Homes Like in the 89521 Zip Code?
Reno is more known for its hotels and condo buildings than its houses, and that is because many of them are located in residential areas like this one. According to census data, there are about 11,000 homes in the area, so you have plenty of options when it comes to real estate.
Most of the homes are single-story family-style homes that have been built within the last 20 years. There are also a few apartment buildings and townhouse neighborhoods scattered throughout the area.
Are There Homes For Sale in the 89521 Zip Code?
A quick search throughout our "Homes for Sale in Reno" page will show a large amount of real estate at excellent prices. Many homes for sale in Reno are spacious abodes that are dotted throughout charming residential neighborhoods or set in carefully designed master-planned communities. These communities have become very popular over the last few years based on their accessible locations and sense of community. Homes for sale in 89521 offer a variety of styles and sizes to choose from which cater to many different buyers.
Is Zip Code 89521 Close to Amenities?
The neighborhoods that are situated in the 89521 zip code are full of amazing parks and natural features that are fantastic for nature lovers. You can also find plenty of great stores, services, schools, medical centers, and much more.
Setting up shop by the end of 2024 or the beginning of 2025 is the fabulous Downtown Damonte. Locals will be able to peruse plenty of retail shops, enjoy a plethora of bars and restaurants, as well as find their dream homes in brand-new luxury apartments designed with elegance and modern amenities. This will be the urban core of southern Reno, right at the heart of Damonte Ranch.
If you need to do some traveling, then the local airport is just 16 minutes away, so you never have to worry about making your flight on time. Reno also has hospitals, a university, The University of Nevada at Reno, and an Amtrak station. Everything you could ever need is in your local neighborhood or just a short drive away, so this area is close to plenty of different amenities.
Are There Any Schools in Zip Code 89521?
For families that are considering a move to zip code 89521, educational opportunities are an important aspect. Reno is full of excellent schools that are both public and private. Let's look at a few of the public schools that serve the 89521 area code and a few local private schools.
Brown Elementary School has about 550 students in grades K-5 with a student-to-teacher ratio of 15 to 1. Niche.com has ranked the school as being the 33rd best public elementary school in Nevada.
Nick Poulakidas Elementary School is home to approximately 793 students in PK-6th grade. With about 46 full-time teachers employed, Nick Poulakidas has a student-to-teacher ratio of 17 to 1.
Kendyl Depoali is one of the best middle schools in the area, and it has been ranked by niche.com as the 3rd best middle school in Washoe county. It has close to 900 students in grades 6-8, with a student-to-teacher ratio of 16 to 1.
Damonte Ranch High School is an excellent school with an average graduation rate of 93%. The school educates roughly 1,800 students in grades 9-12, and they have a student-to-teacher ratio of 19 to 1.
J. Wood Raw Elementary School is set to open in August 2023. Designed to match the other more recent schools of the District, J Wood Raw will hold up to 745 students, which will help with overcrowding issues in the nearby Reno schools.
The Goddard School is one of the best private schools in the area. They have close to 60 students in grades Pre-kindergarten and kindergarten and a student-to-teacher ratio of 16 to 1.
Mountain View Montessori is a fantastic choice if you are looking for a highly-rated Montessori school in the Reno area. They have about 200 students in grades Pk-9 and a student-to-teacher ratio of 20 to 1.

Are There Employment Opportunities in the 89521 Reno Zip Code?
We mentioned how close you are to downtown Reno and this is perfect for anyone who is choosing to work there. Reno has an unemployment rate of 2.6%, which is below the national average by quite a bit, and there are so many different new businesses opening up in the city all of the time. The majority of workers in the city work for the local school district, the local university (University of Nevada at Reno), and the county.
There is no shortage of new jobs in Reno, but if you want to create your own job, you should consider opening your own business. Businesses do well in areas with high amounts of tourists based on the constant overturn of new customers. Retail and restaurants are some of the most popular options when it comes to tourist towns, and you can make quite a bit of money if you find a unique or exciting way to make it your own.
Are There Any Parks or Green Spaces in Zip Code 89521?
If you are looking for more than just houses and buildings, then you are in luck. This area has plenty of amazing parks and natural areas that are great for gathering with family or friends. Let's have a look at a few of the most popular ones in the area.
Cyan Park
This park is situated in a delightful neighborhood, and it has plenty of fantastic features for residents to enjoy. It features a water area for the kids, a basketball court, a dog park, a picnic area, a playground, and a tennis court.
Comstock Park
Comstock Park is a charming little park and playground that offers ample space for sports or gatherings. With a baseball field, basketball court, and soccer/football field, this is the ideal green space for a game or two on the weekend. The rentable shelter can hold over 200 people, so when it comes to family reunions or birthday parties, this park is perfect!
Damonte Ranch Park
Situated on 8 beautiful acres is Damonte Ranch Park. Nestled right next to the beautiful Damonte Ranch wetland preservation area, this park is great for family picnics and get-togethers. There's plenty of open space for playing as well as a fantastic children's playground and access to walking trails. The wetlands offer scenic views of Mt. Rose as locals wander along walkways and naturally crafted trails.
Rattlesnake Mountain
Nevada is full of incredible mountains and hills that are perfect for hiking enthusiasts, and Rattlesnake mountain is one of the best in the area. The trail takes an average of 50 minutes to complete, and it is considered to be a moderately challenging hike. Dogs are welcome on the train, and some areas are off-leash, so you can bring your furry friend along while you get fit and healthy.
Is There Any Entertainment in Zip Code 89521?
The downtown area of Reno has become popular due to a large number of casinos and entertainment venues, but you don't have to travel far to find some fun things to do. Check out some of these great activities in the area.
This casino is slightly out of the way, which makes it less popular than all of the casinos in the downtown area. The casino is open 24/7, so you can go play the slots or tables whenever you want. It's a great place to take your friends and family for some thrilling fun, and you might even end up winning big!
Many people choose to relax by hitting a few balls on the green, and this great golf course is one of the best in the area. Wolf Run golf course is a full-service course with a driving range, so you can practice your shot before you start making your way to the course. The course has 18 holes, and it runs all year round.
Reno has so many amazing features that make it a fantastic choice for your new home. The area that encompasses zip code 89521 is perfect for anyone who is looking for a more residential area in Reno, and it's one of the best places in the city to find a new home. Reno is a great choice for so many different reasons so have a look at the amazing homes in this city today to see which ones suit you the best.
David Tully, located in Reno, Nevada is a detail oriented REAL ESTATE professional that can offer his clients significant experience whether they are first time homebuyer, or experienced seller/buyer relocating to Reno. This experienced real estate professional knows the industry and strives on getting the clients exactly what they are looking for.